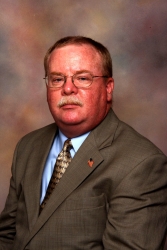 Jacksonville, FL, July 28, 2008 --(
PR.com
)-- The Grimes Companies (TGC) is pleased to announce that Robert Sawyer has joined the company as a Transportation Analyst for its subsidiary Grimes Transportation Brokerage (GTB). Sawyer's career in logistics spans over thirty years and he now brings the full value of that experience to TGC.
The newly created position provides value-added services to clients through analysis of transportation and distribution systems. Sawyer will work to help clients realize efficiencies and cost savings by seeking to optimize distribution models.
Sawyer is a native of New York and holds a Bachelors of Science in Business Administration from Ohio State University as well as an MBA from The University of Dayton. Sawyer began his logistics career with the United States Navy, where he served as a Supply Corps Officer. He is a member of the Council of Supply Chain Management Professionals.
TGC, a Jacksonville, Florida based company, currently operates both public and contract warehouses in Florida and Maryland. As a single-point solution for logistics and supply chain needs, TGC provides warehousing, transportation and packaging services to its clients. FileSafe, Inc., a wholly-owned subsidiary of TGC, offers document storage services to businesses in Northeast Florida.
###