Writers Worldwide Join Forces to Publish Speculative Fiction Anthology
Writers from three major continents have joined forces to publish a speculative fiction anthology. Edited by Sasha Beattie and co-ordinated by Karen Lee Field, the anthology brings together thirteen original stories for adults who enjoy fantasy, science fiction and horror.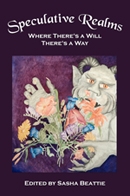 Sydney, Australia, August 11, 2008 --(
PR.com
)-- Realising traditional publishers are only interested in well known authors, Karen Lee Field felt compelled to tell the world about the less known, talented, authors. Ms Field enlisted the help of editor, Sasha Beattie, and artist, Heather Anderson, and together they started their search for stories which would entertain, provoke, startle, amuse and resonate long after the last page had been turned. Eighteen months later, and after rejecting 95% of submissions, they published "Speculative Realms: Where there's a will, there's a way".
"All good writers deserve a chance to be read," said Ms Field. "And it was for this reason that I took it upon myself to do something positive for these talented people. It wasn't easy. In fact, this project was quite stressful at times, but I am pleased to say that we made it to the end."
"As one who has been there since the start, I have to say there is a definite subtheme which I can only express as determination through diversity. This is a testament to the myriad of voices the world may not yet have heard," said Ms Beattie. "The process to find these voices was long and at times quite arduous, but it is certainly a selection to be proud of."
The thirteen authors are based in Australia, United States, Canada, Netherlands and UK. The stories all fit the theme "where there's a will, there's a way", yet things are not always what they seem. Demons, technology, powerful mages, dragons and love all have a part to play.
The book is currently available in printed form from Lulu, but will also be available from Amazon, Barnes and Noble and other online bookstores in coming weeks. The recommended retail price is $15.95. The book is also available for download as an ebook from Lulu for only $5.00.
About Karen Lee Field
Karen Lee Field has been writing fantasy stories for adults, young adults and children between the ages of 8 and 12 years for ten years. She is the owner of two successful online writing communities as well as her own website. She also organised a short story competition where Jennifer Fallon and Fiona McIntosh, both best-selling Australian authors, agreed to be judges. Karen is currently working on the first draft of a paranormal novel, which she hopes to have published.
For more information about "Speculative Realms: Where there's a will, there's a way", please visit www.speculativerealms.com.
###
Contact
Speculative Realms
Karen Lee Field
(61) 405 125 561
www.speculativerealms.com

Contact