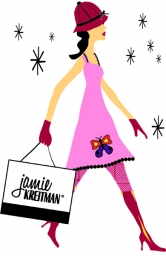 Jamie Kreitman, a Brooklyn girl with a New York dream. Fashion obsessed since childhood. Fifth Avenue, her destination. Thrust into business by Henri Bendel. Whimsical knitwear in a colorful fashion became her credo. Customers clamored for her shaped jackets with touches of knitted teddy bears, hearts, flowers or hard candies. All SmileWorthy, all of stellar quality.

Once making a name for herself as SweaterGirl, next came T's, yoga sets, Status flip-flops and Gummy Yummy handbags. Mix & match, match & mix-more funny, fun, fun! What a success! Fashionistas of all ages desperately seeking Jamie. Phone calls 'round the clock from the fashion obsessed. Emergency pleas for the hottest, the newest, the latest.

This website has been created to quench your fashion thirst. Come and play, have fun, get dressed and SMILE!
Status

Private Company

Founded

1991