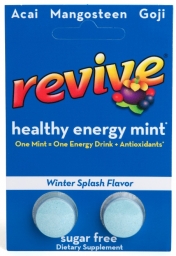 Revive Energy Mints/RyLo Products LLC is a Denver-based company specializing in the sale of healthy energy supplements. With the release of Revive Energy Mints in August of 2008, RyLo Products launched its first healthy energy product.
Combining 220 mg of guarana, green-tea, and ginseng and caffeine with a superfruit concoction consisting of extracts from acai, goji, and mangosteen, RyLo Products has formulated a first to market antioxidant packed healthy energy breath mint. A single serving of Revive Energy Mints, contains an amount of caffeine roughly equivalent to a cup of premium brewed coffee, an energy shot, or an 8 to 16 oz canned energy drink. Only Revive Energy Mints offers consumers a quicker, healthier and more convenient energy boost. With no liquid, there is no need for frequent bathroom breaks. And with no sugar or carbonation there is no nasty crash that follows the long-lasting, sustained energy boost delivered by Revive Energy Mints. In addition, Revive Energy Mints are easily transportable, they can be carried in your pocket or purse, and require no refrigeration. It's no wonder many are now calling Revive Energy Mints the world's first "super mint".
Within less than a year of its initial debut, RyLo Products' strategic marketing and proven distribution model have ushered Revive Mints into the forefront of a blossoming market for healthy alternatives to traditional energy drinks. Revive Energy Mints offers inspiring entrepreneurs an opportunity to cash in on the growing market for healthy energy products by generating revenue through multiple sources of income. Authorized distributors of Revive Energy Mints have access to backend support, custom marketing materials, national advertising, celebrity endorsements and one-on-one coaching.
The Revive Energy Mints franchise gives entrepreneurs a ground breaking opportunity to whole revive mints. Each franchisee is given 25 vending machines and full retail rights to help them succeed in marketing their own home based business.
It is this unprecedented support, that has enabled authorized distributors of Revive to successfully land and manage retail accounts while at the the same time, generating quick cash flow from Revive's custom Energy Center Vending Machines. Already, Revive Energy Mints are available in select, QuikTrip convenience stores, select 7/11s and other fine retail outlets all across the U.S. and Canada.
In 2009 Revive Energy Mints launched their national TV commercial a 30 second spot taking aim at over priced, over hyped energy shots and drinks. The commercial has been viewed over 4 million times an aired on stations like Spike TV, MTV, ESPN, The NFL Network, Comedy Central and many others. RyLo Products is using guerrilla marketing, combined with TV, and Radio to get the word out about Revive Energy Mints.
In late 2008 early 2009 Sito Marketing and Rylo Products also started the Revive Energy Mint Scam and Rip Off coalition to help uncover and put a stop to bogus business opportunity and franchise offerings. Revive Energy Mints prides itself on their customer service and business reputation. The Revive Energy Mint Scam coalition was enforced to weed out the bad apples of the business world.