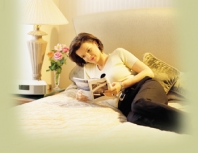 As you approach its doors, it is apparent that you are about to enter a truly special place – it is The Benjamin. In a classic 1927 building carefully restored to its original grandeur, The Benjamin provides discerning travelers with a warm, intimate atmosphere and the utmost in personal attention.
The Benjamin brings a unique level of comfort to business and leisure travelers in a sophisticated, boutique-style setting. An Executive Suite Hotel, The Benjamin's guest rooms and suites are luxuriously appointed and specifically designed to enable guests to both work and relax in the comfort of their own rooms. From premier technology to the finest amenities, The Benjamin creates a world of luxury and service that's hard to replicate.
And with an eye toward the environment, The Benjamin is one of only four Five-Globe ECOTEL' certified properties in the world. Environmental responsibility is a core philosophy, encompassing every aspect of hotel operation and guest service.
We are committed to ensuring that our guests experience an effortless and comfortable stay. We achieve this goal by treating our fellow employees, business partners and guests with the same high level of hospitality.
We provide the technology to compete in the global economy and the atmosphere to pamper each of the senses, while making a sincere effort to protect the environment.
We call this The Benjamin Experience.