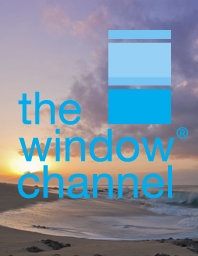 The Window Channel, headquartered in Edmonds, Wash. is a production company that creates original long-play, ambient and scenic High Definition programming including the "Ventana" series of individual themed programs designed to engage and relax the viewer. The Window Channel is featured as wellness and relaxation therapy in leading hospitals and healthcare facilities, and for guest enjoyment at upscale hotels and resorts in the US. The Window Channel also provides HD ambient video programming for Comcast on Demand in Washington state and to digital signage distributors is in the U.S. Europe ad Asia.
The Window Channel's "Windows" are individual HD video clips that run between four and six minutes and captured from a single, locked-off camera position, without distracting pans, zooms, quick cuts, nor artificial sound tracks or detracting music beds. The end result is a still photograph—come to life—a modern "first person" immersion experience. The Window Channel's unparalleled clarity of high-quality HD footage creates relaxing images that are simply incredible to watch. The Window Channel's library is the most comprehensive of its genre with hyper-real images from some of the most talented filmmakers across the globe.
The Window Channel's Ventana Wellness Programming offers healthcare providers patient care relaxation and restorative environments in stunning high-definition for in-patient rooms, reception and post-operative areas. Ventana program selections give patients and caregivers the options of choosing from a library of selected natural environments and themes. Combined with pain management therapies, The Window Channels' Ventana programming helps reduce stress by creating a relaxing, therapeutic environment.