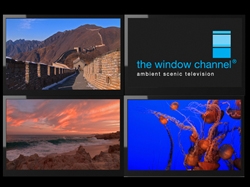 Seattle, WA, June 02, 2010 --(
PR.com
)-- The Window Channel, the Seattle-based producer of original HD ambient video programming, today announced that Comcast, the nation's leading provider of cable, entertainment and communications products and services, has added The Window Channel to its XFINITYtm TV service for Washington state customers. The new video-on-demand (VOD) service will be available for in home viewing for the first time ever and will feature several hours of content, with new programming available regularly.
The Window Channel offers Comcast customers access to relaxing high-definition ambient scenic video programming previously available only in high-end hotels and health care facilities. The Window Channel programs feature long-play, ambient scenic video shot in high definition and accompanied by the natural ambient audio recorded in 5.1high definition surround sound. The Window Channel is also available in Washington area hotels including Hotel 1000, The Inn at The WAC, Roosevelt Hotel, Courtyard by Marriott, all downtown Seattle, the Woodmark Hotel, Kirkland, Willows Lodge, Woodinville and the Northern Quest Resort & Casino in Spokane.
The Window Channel is available at no extra charge for a limited time to Comcast customers in Washington state who subscribe to a digital cable package and have a digital set top box. "Our original content offers a calming and composed ambient background that helps viewers relax and escape from the clutter of daily life," said Mark Knight, partner in The Window Channel. "We have footage as diverse as a sunrise from the beach on the Sea of Cortez in Mexico to looking out over ancient Mayan ruins from atop a pyramid in Guatemala. The format has a completely immersive feel to it. "For the first time ever, Comcast viewers will have the choice of a wide variety of original and inspiring environments filled with beautiful and engaging sights and sounds which contribute to a relaxing environment for all family members.
"The Window Channel brings the world to life in the unparalleled clarity of high definition with footage from across the street and across the world to create very real scenes that transport you to the location," said Jim Wilmer, partner in The Window Channel. "It is an incredibly eye-catching and powerful experience."
The Window Channel is accessible from the "Get Local" folder on Comcast On Demand. For more information customers can call Comcast at 1-800-COMCAST (1-800-266-2278)
About The Window Channel
The Window Channel, headquartered in Edmonds, Wash. is a production company that creates original long-play, ambient and scenic High Definition programming including the "Ventana" series of individual themed programs designed to engage and relax the viewer. The Window Channel is featured as wellness and relaxation therapy in leading hospitals and healthcare facilities, and for guest enjoyment at upscale hotels and resorts in the US. The Window Channel also provides HD ambient video for digital signage providers in the U.S. Europe ad Asia . For more information please visit www.thewindowchannel.com.
About Comcast Corporation
Comcast Corporation (Nasdaq: CMCSA, CMCSK) (www.comcast.com) is one of the nation's leading providers of entertainment, information and communication products and services. With 23.5 million cable customers, 16.3 million high-speed Internet customers, and 7.9 million Comcast Digital Voice customers, Comcast is principally involved in the development, management and operation of cable systems and in the delivery of programming content. Comcast's content networks and investments include E! Entertainment Television, Style Network, Golf Channel, VERSUS, G4, PBS KIDS Sprout, TV One, 11 regional sports networks operated by Comcast Sports Group and Comcast Interactive Media, which develops and operates Comcast's Internet businesses, including Comcast.net (www.comcast.net). Comcast also has a majority ownership in Comcast-Spectacor, which owns two professional sports teams, the Philadelphia 76ers NBA basketball team and the Philadelphia Flyers NHL hockey team, and a large, multipurpose arena in Philadelphia, the Wachovia Center, and manages other facilities for sporting events, concerts and other events.
###