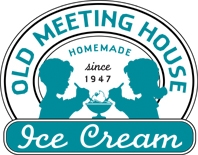 Old Meeting House Homemade Ice Cream provides wholesale gourmet all natural handmade homemade ice cream to restaurants, scoop shops, dip shops, cafes, hotels, resorts, and also provides several business opportunities including ice cream vending machines and franchise alternatives with no franchising fees. Founded in 1947, and still has a fresh outlook on the ice cream industry. See www.omhicecream.com/wholesale-ice-cream/ for more details on our business and partnership options.
Status

Private Company
Company History

In 1947 the Old Meeting House, located in South Tampa – just two blocks north of the famous Bern's Steak House – began to make its delicious, handmade ice cream in a five-gallon Emery Thompson batch freezer. Back then, the ice cream sold for five cents a scoop and thirty-five cents a pint.

Today, this time-honored tradition continues using the same style of handmade, small batch freezer process, along with the same care and commitment to an all natural, rich 18% butterfat ice cream. Old Meeting House uses fresh cream, eggs, sugar and only the highest quality ingredients in their ice creams. From the Hoffman Family hot fudge recipe to the butter caramel or bananas foster sauce, Old Meeting House Ice Cream makes many of their own sauces, variegates and ice cream inclusions. Delicious, all natural flavors and homemade inclusions combine for the ultimate ice cream experience. After making ice cream for over 58 years, Old Meeting House Ice Cream remains faithfully, 100 % natural.