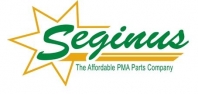 Seginus Inc. is a leading manufacturer of FAA PMA replacement aircraft parts. We manufacture aircraft bearings and electrical carbon brushes for many types of aircraft accessories. Our starter generator bearings go in many types of helicopters, jet and turboprop aircraft. Our FAA PMA approved parts are used on Hawker Beechcraft, King Air, Hawker 400 and 400xp, Hawker 700/800, ATR 42, ATR 72, Beechjet 400, Cessna Citation, Dash 8, Q400, 1900C, and 1900D.
Seginus also manufactures replacement aircraft bearings and carbon brushes for cabin ventilation blowers. Our FAA approved replacements are used on Advanced Industries, Electromec, and Dynamic Air engineering assemblies. We also manufacture aircraft bearings for Beechcraft King Air 90, 99, 100, and 200 mechanical landing gear actuators.
Whether its replacement starter generator parts, or aircraft bearings for your APC Skurka Aerospace, Thales, Goodrich, TRW Lucas Aerospace components, or Beechcraft landing gear actuators, you can count on our price, quality and quick delivery.
Status

Private Company

Founded

2009

# Employees

10