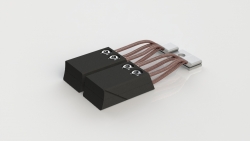 Oswego, IL, August 10, 2018 --(
PR.com
)-- Seginus has new carbon brushes available for pre-order. The lead time is 12-14 weeks.
150SG1009-5EH
150SG1009-20XL2EH
200SGL1009EH
200SGL1009-3EH
200SGL1009-7EH
200SGL1009-10X2EH
250SG1009EH
300SGL1009-5EH
400SG1009-7EH
400SG1009-14EH
The Brushes P/Ns referenced above are articles of various Starter-Generator(s) manufactured by Skurka Aerospace Inc, and Honeywell. The Brushes have eligibility installation on various Series Aircraft.
Seginus Inc. has released the following FAA PMA replacement part to aid in your cost reduction programs when maintaining your Skurka-Aerospace Inc. and Honeywell Starter-Generators.
For additional information, contact our USA offices or your regional distributor.