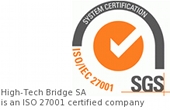 - Historical Records
High-Tech Bridge was founded in 2007 using venture capital funds. In 2008 High-Tech Bridge carried out an MBO (Management Buy Out) and since then, the company has been privately owned.
- Ownership
All the shareholders of High-Tech Bridge SA are Swiss citizens, domiciled in Switzerland.
High-Tech Bridge SA does not use investments coming from abroad, or from any commercial organizations in Switzerland or abroad, in order to assure the absolute neutrality, confidentiality, objectivity and independence during security evaluation and Ethical Hacking projects.
To ensure absolute transparency and trust, High-Tech Bridge's shareholders list may be provided to customers upon special request.
- Legal Information
The share capital of High-Tech Bridge SA, whose Swiss origin is certified by notary, is CHF 3'000'000.
External financial auditor is "Fiduciaire de Rive SA".
External ISO compliance auditor is "SGS Société Générale de Surveillance SA".
Other legal information and historic records are available at Commercial Register of Geneva, Switzerland.
- Mission Statement
High-Tech Bridge's corporate Mission Statement is:
"Bring an added-value to our customers by providing them with trusted, reliable and highly-efficient Information Security services".
- Technologies
High-Tech Bridge proposes information security services and does not offer IT integration or installation services, nor does it resell security products or solutions in order to avoid any potential conflict of interest.
All High-Tech Bridge security auditors are Swiss residents with Swiss working permits. High-Tech Bridge never under any circumstance outsources or subcontracts any security services to third parties or temporary staff.
High-Tech Bridge is the first company in Switzerland to launch a non-profit Security Research Lab as a Social Responsibility activity.
High-Tech Bridge white papers and advisories at Packet Storm
High-Tech Bridge white papers and advisories at Exploit Database
- Confidentiality and the Code of Ethics
High-Tech Bridge never keeps any customer related information after project termination. Any customer related data is returned to the customer and then permanently deleted.
Strong level of internal information security and data integrity are assured by its corporate ISO 27001 certification.
Our NDA with customers' prohibit us to disclose any information about the customer, including customer's name.
Upon demand our customers can request an ID, a CV or other pertinent background information of any High-Tech Bridge employee. All High-Tech Bridge employees are under strict confidentiality agreements.
- Clients
Among High-Tech Bridge customers there are:
- Banks and Financial Institutions
- Luxury Industries
- Insurances
- Pharmaceutical and Medical Industries
- Governmental Structures
- International Organizations
- Media Companies