High-Tech Bride Named a Top Trusted Website in OTA's 2013 Online Trust Honor Roll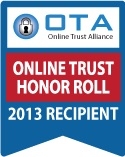 Geneva, Switzerland, June 05, 2013 --(
PR.com
)-- High-Tech Bridge SA announced it has been named to the Online Trust Alliance (OTA)
2013 Online Trust Honor Roll
for demonstrating exceptional data protection, privacy and security in an effort to better protect their customers and brand. For High-Tech Bridge this is a second consecutive nomination for this prestigious global award that the company has already received in 2012.
OTA, a nonprofit organization that works collaboratively with industry leaders to enhance online trust, completed comprehensive audits analyzing more than 750 domains and privacy policies, approximately 10,000 web pages and more than 500 million emails for this report. The composite analysis included over a dozen attributes focusing on: 1) Site & server security, 2) Domain, brand, email and consumer protection, 3) Privacy policy and practices. In addition to the in-depth analysis of their web sites, Domain Name Systems (DNS), outbound emails, and public records were analyzed for recent data breach incidents and FTC settlements. Key sectors audited include the Internet Retailer 500, FDIC 100, Top 50 Social Sites as well as OTA members.
"Consumers are trading billions of pieces of personal data in exchange for desired services and are relying on the integrity of businesses collecting and storing that information to protect them," said Craig Spiezle, president and executive director of Online Trust Alliance. "As a 2013 Honor Roll Recipient, High-Tech Bridge has demonstrated excellence in leadership and commitment to protecting consumers and building trust through data protection, security, and privacy."
"At High-Tech Bridge we are honored to receive the OTA Online Trust Honor Roll award. Being a member of OTA Advisory Council our company shares the values and objectives promoted by Online Trust Alliance, such as global trust and security in the cyber space," said Ilia Kolochenko, CEO of High-Tech Bridge. "We are committed to support OTA projects and initiatives, and this year we are especially proud that our new product
ImmuniWeb®
was
used by OTA during Honor Roll scoring
."
Being named to the 2013 Honor Roll is a significant achievement considering the large number of companies that received failing marks for inadequate domain and consumer protection (14%), insecure websites (7%), and inadequate privacy policies or data collection practices (36%).
About The Online Trust Alliance
The Online Trust Alliance (OTA) is a non-profit with the mission to enhance online trust, while promoting innovation and the vitality of the internet. Our goal is to help educate businesses, policy makers and stakeholders while developing and advancing best practices and tools to enhance the protection of users' security, privacy and identity. OTA supports collaborative public-private partnerships, benchmark reporting, meaningful self-regulation and data stewardship.
About High-Tech Bridge
High-Tech Bridge SA is a leading provider of information security services, such as
penetration testing
, network security auditing, consulting and computer crime forensics. In 2012 Frost & Sullivan has recognized High-Tech Bridge as one of the market leaders and best service providers in the ethical hacking industry. High-Tech Bridge devotes significant resources to information security research. High-Tech Bridge Security Research Lab helped various software vendors improving security of their products, including such vendors as Microsoft, IBM, Novell, McAfee, Sony, HP, Samsung, OpenOffice, Corel, OpenX, Joomla, WordPress, UMI.CMS, and hundreds of others.
Contact
High-Tech Bridge SA
Mr. Patrick Tran
+41 22 560 68 43
https://www.htbridge.com

Contact