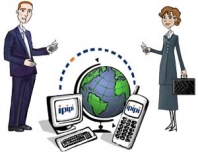 Upside Wireless Inc. is a global mobile messaging solutions provider, specializing in the delivery of corporate and personal information to and from wireless data networks using Short Message Service (SMS) and cellular phones. Check out www.ipipi.com to see the proof of concept for our technology.

ipipi is a global SMS messaging portal that enables sending and receiving of text messages in a "Hotmail" like, familiar and simple to use environment. Its flexible interfaces enable our global users to send SMS to any mobile phone on the planet by using Internet browser, Microsoft Outlook or Instant Messenger. Similarly, ipipi offers a "60-minute-API" that enables global companies to SMS enable their enterprise applications in minutes.

The Wireless Information Server (WIS) is a proprietary mobile messaging platform that enables intelligent delivery and routing of relevant information between multiple networks. It acts as a bridge between electronic information residing on various and otherwise disconnected networks (for example the Internet, enterprise applications and wireless data networks).
Status

Private Company