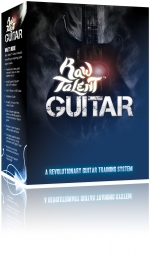 Raw Talent Guitar is the most REVOLUTIONARY guitar training software system... EVER!

Raw Talent Guitar includes literally everything you'll need to grow into a professional guitarist. Raw Talent Guitar replaces the need for thousands of dollars in private lessons and expensive equipment. Raw Talent Guitar is the most engaging, most accurate, and more complete guitar training system that teaches real music and guitar TAB while also providing instant feedback and progress reports on improvement. Raw Talent Guitar even works with headphones so you can learn with privacy and so no one else has to listen to you learn.

Raw Talent Guitar is a revolutionary guitar training software that works with any real guitar and transforms any computer into a sound stage with the included guitar-to-USB cable and amp & FX software. Raw Talent Guitar will make anyone a better guitarist in 30-days guaranteed or your money back. Raw Talent Guitar teaches real music with HD lessons and practice sessions and a professional guitar professor from Miami University and Frost School of Music.

The RT Evaluator offers feedback in real time using computer algorithms never before applied to learning guitar in order to test the student. You can even remove the lead or rhythm guitar and join the band! Play with scrolling sheet music to 15 licensed songs including Boston's "More Than A Feeling," Oasis' "Champagne Supernova," and "Wonderwall," The Clash's "I Fought The Law," and Joan Jett and the Blackearts' "I Love Rock And Roll." Raw Talent Guitar even works with headphones so you can learn and not disturb anyone.

Raw Talent Guitar is a teacher, an amp and a band - all in one box!
Status

Private Company

Founded

2008