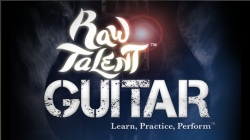 Boca Raton, FL, October 11, 2011 --(
PR.com
)-- Raw Talent, Inc. is pleased to announce two new guitar-based music education products to add to the Raw Talent Guitar brand: the Raw Talent Guitar DVD set with printed booklet and the Raw Talent Guitar workbook with included audio CD.
These two new additions to the Raw Talent Guitar product line will introduce two different price points to Raw Talent's ground breaking curriculum and existing flagship product, Raw Talent Guitar, the most revolutionary guitar training system ever.
The Raw Talent Guitar DVD set with a 150-page full-color printed booklet will feature the same high-definition
guitar lessons for beginners
and intermediates, featuring the same curriculum with the same guitar professor that students have grown to love.
"[The] lessons are great. Love the dude that gives the lessons... I love practicing now," says Dan, an actual Raw Talent Guitar user's third-party verified testimonial on ProvenCredible.com.
The Raw Talent Guitar software and Raw Talent Guitar DVD contain high-definition video lessons and practice sessions featuring former University of Miami, Frost School of Music and Miami International University guitar professor Padraig O'Kane and his lesson plan, which he designed specifically for use with Raw Talent Guitar.
"The lessons move at a fast enough pace to keep from being trivial yet remain challenging, not an easy thing to do," says Rod, another Raw Talent Guitar user whose review is third-party verified on ProvenCredible.com.
The Raw Talent Guitar workbook with included audio CD will include the same curriculum featured in the Raw Talent Guitar software and Raw Talent Guitar DVD set.
"Raw Talent Guitar provides beginner guitar students with a completely different learning experience; therefore, our curriculum must be dynamic enough to keep up with the guitar-to-USB cable and RT Evaluator technology included in every box," said Lawrence Fisher, CEO.
These two new Raw Talent Guitar products will be just as effective in teaching new and intermediate guitar students who want access to the same great curriculum, because the curriculum was designed to teach anyone as effectively and as quickly as possible.
"And with a mid-priced DVD set and a low cost workbook with audio CD, no computer is necessary," adds Fisher.
The Raw Talent Guitar DVD set and Raw Talent Guitar workbook will soon be available online on RawTalentGuitar.com, along with the Raw Talent Guitar flagship product, a revolutionary guitar learning software that features guitar lessons for beginners and intermediates, digital amp and effects, professional guitar playing tips and famous guitar songs ranging from easy to hard by bands like Boston, Oasis and the Clash.
Currently, Raw Talent has not announced a date or a price point for these new products, but plans to announce a release date by November 2011.
Third-party verified reviews for the Raw Talent Guitar software system are accessible to the public on Raw Talent's profile at ProvenCredible's Web site, and will feature reviews for these new products in the future: http://
www.provencredible.com/raw-talent-guitar-3439/
"The move to showcase third party verified testimonials on ProvenCredible.com will increase search results on the first page of Google for students searching for guitar education product reviews, and now at a variety of price points," said Marc Quadagno, Director of Media Relations.
Honest third party testimonials provide vital information to anyone searching for guitar learning software to help them decide that Raw Talent Guitar is the best product for anyone learning to play guitar. Current testimonials rave about the added value of Raw Talent Guitar and their support team, and reviews average 5 out of 5 stars.
Raw Talent Guitar has a 97.5% customer satisfaction rate, and Raw Talent products are currently available online at
RawTalentGuitar.com
and Amazon.com, as well as other online retailers. Additionally, Raw Talent products should be in stores by the 2011 holiday season.
###
About Raw Talent, Inc.
Raw Talent was founded in October 2008 by brothers Scott and Shaun Fisher after they realized limitations in learning to play an instrument with video instruction alone, which lack instant feedback or evaluations from an instructor. Many involved with the project are musicians by trade, and many professional musicians and guitar instructors were consulted to make their flagship product, Raw Talent Guitar, as accurate as possible. The company mission is to be the worldwide leader in providing the most fun and accurate at-home training and evaluation tools for self-taught musicians and artists for use with their personal computers.