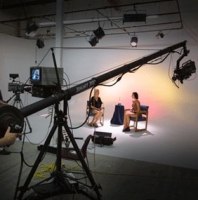 Compelling stories are at the heart of everything we do, and we take great care to craft fresh stories that people can really sink their teeth into and get jazzed about.
Through our professional, in-house capabilities, we tell visual stories using authentic online videos that involve narratives about innovation and change. Our services cover a full range of video types including company overviews, product demos, customer testimonials, comedic videos, motion graphics and industry trend pieces
Yes, our team has impressive credentials. And yes, they've worked with some of the most demanding clients and top brands. But what matters to you - and to us - are results.
We provide scriptwriting, casting, filming, editing, animation, voice-over and music services. We can film your next creative project in state-of-the art production studios or we can bring our in-house production crews to you.
What's different about SK Media Group
At SK Media, we believe it's better to be outstanding at a few things than okay at many. So we focus on what we do best. We create, implement, communicate and optimize brand positions to unleash customer engagement using video.
What We Do - We create AMAZING videos. That takes two things. Sharp, creative minds, and a great team that knows how to deliver game-changing insights. SK Media offers you the best talent in the business on both counts.
We implement - Our implementation process is guaranteed to deliver engaged hearts and minds and bottom-line value. We take care of each and every step, from strategy and script development, to shooting, editing and graphics. Utilizing our global network of professional filmmakers, a proprietary video production platform and our authentic story-telling-style filmmaking, SK Media Group produces videos for large consumer brands and local small businesses.
We co-create - It's your brand and your business. Shouldn't you be part of the team that builds the house you'll live in when the project's done? Shouldn't your other trusted vendor partners come along for the ride? We think so, too.
That's our story. Please contact us to see us in action! (718) 210-2231