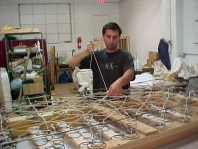 For over 100 years, our family business Orange Mattress and Custom Bedding Company has been delivering quality customcomfort mattresses. Founded in Charleston, South Carolina in 1902, we relocated in 1938 to New Jersey in order to continue our tradition of building top quality custom handmade Mattresses and Box Springs.
Orange Mattress/Custom Bedding utilizes natural fibers which include, horse hair, cotton, lambs wool latex rubber as well as Organic cotton. Our latex rubber is wrapped in either cotton or wool as opposed to synthetic foams. We can make a mattress in any level of firmness which consists of soft, medium, firm, or super firm. One of our most popular mattresses is our cotton, horse hair, latex and lambs wool upholstered innerspring mattresses covered in our 100% cotton ticking. This type of mattress is cool in the summer and provides warmth in the winter. Each innerspring mattress contains brass air vents which allows for air circulation. Every mattress which contains one of our natural ingredients is also lace tufted by hand which prohibits shifting. We know offer all natural removable latex and cotton mattress pads. The pad offers an extra layer of cushion for those that enjoy a softer feel. Organic crib mattresses are available.
Our box springs are even custom upholstered. Each one is adapted to the firmness you like. We add all natural cotton to our box springs. If you are interested in a more contouring feel, we offer our special hand tied box springs. Specialty box springs such as rabbed edge used mainly in antique beds are also manufactured here. For those with tight stairwells and small spaces, split queen and split full box springs are also available.
All of our bedding sets not only have a unique quality to them, they also last for many years. For example, our solid Horse Hair mattresses can last anywhere from 30-70 years. Our cotton and horse hair innerspring last for many years as well. One reason for this time span is that our natural mattresses are not quilted. Over the years, foam will break down to a powder like substance. This is why you feel your spring pop through on traditional mattresses.
Custom pillows are also a specialty item of ours. The best pillow you can get is either goose down or white goose feathers mixed with down which gives more body to the pillow, which will give more support to the head. These handmade pillows are not found in other stores. Organic cotton pillows available.
Through recommendations of savvy decorators and through word of mouth, customers ranging from the Rockefellers to the Hearsts, Ralph Lauren, and the Claibornes, as well as a variety of other famous people enjoy night after night of restfuls sleep after visiting and purchasing one of our high quality mattress sets. We are now located now located at 77 Central Ave. Clark New Jersey.