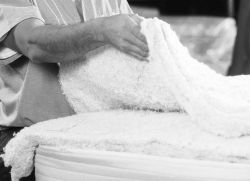 Clark, NJ, February 18, 2016 --(
PR.com
)-- Seeking a new mattress, can be an arduous and confusing task. You may want to ask yourself, why not experience the best, healthiest, long lasting mattress on the market today? What determines these aspects of best, healthiest and long lasting mattress? For one, a double sided or two sided mattress increases longevity. Salespeople try to persuade you into thinking that flipping a mattress is burdensome however, the average 2 times per year of turning your mattress over may lead to double the life span. What people don't know is that when you purchase a one sided mattress you are purchasing a half mattress at the price for a full mattress. Has it occurred to the consumer that mattresses last only a fragment of the years they did in the past? With Orange Mattress Custom Beddings handcrafted old fashioned two sided mattresses, they will last for years.
Not only are the custom handcrafted mattresses long lasting, the mattresses are all natural utilizing components such as cotton, horse hair, latex and wool. There are no synthetic chemical based utilized. What a wonderful experience it is to know you are sleeping and breathing in a natural healthy sleep environment. Feeling refreshed in the morning is Custom Beddings/Orange Mattress mission to you.
Custom Bedding – Orange Mattress has been handcrafting authentic mattresses since 1902 in NJ. Each handcrafted mattress and box spring is made with TLC as our craftsman take extreme pride in their work. The outcome shows in a beautiful authentic natural custom mattress. Treat yourself to many healthy restful nights of sleep.
Visit us today at 77 Central Ave. Clark NJ (732) 428-4125.
http://www.mycustombedding.com/