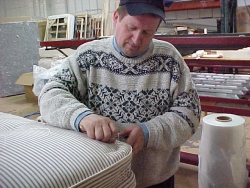 Clark, NJ, August 05, 2014 --(
PR.com
)-- Custom Bedding - Orange Mattress offers a variety of mattresses in any shape or size which can accommodate any standard or antique bed.
Various types of custom mattresses are handcrafted using Horse Hair, Cotton, Latex and Wool in any or all combinations. It is hard to find authentic, old fashioned mattresses and box springs. However, here at Orange Mattress and Custom Bedding, you can find the mattress you are looking for and you will be happily surprised. Standard sizes such as twin, full, queen, and king as well as anything in between and oversized mattresses are offered. A few customer quotes include "I can't believe I found you" and "just like my mom had". Other name brands pretend to give authentic quality however, Orange Mattress Custom Bedding does indeed. To top it off, all of the mattresses are all natural as well as double sided for healthy sleep and longevity.
https://www.youtube.com/watch?v=FDtOBGRQwxM
Handcrafted antique beds are very good quality, the craftsmanship is unbeatable by modern mass production. At Custom Bedding/Orange Mattress, tradition is met by manufacturing old fashioned mattresses which once accompanied these in antique beds. For more information you can contact at 732-428-4125 or visit the website at
http://www.mycustombedding.com
. The showroom where trials can be made on the mattresses is located at 77 Central Ave. Target Shopping Center Clark, NJ 07066.