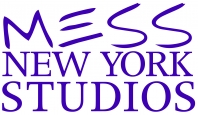 MESS New York Studios was formed by a convergence of makeup artists and business professionals who sought to unify the East Coast's makeup community. It is quickly becoming the city's top resource for veteran makeup artists, and its artist database has developed into a much-needed resource for those seeking experienced makeup artists for projects of any scope; from applications, lessons, makeovers, parties and group events to film, editorial, fashion and commercial projects. MESS organizes professional makeup workshops, helps artists build their portfolios, rents studio space, and recently added a full-service hair salon to its ever-growing list of features. MESS Bridal arranges makeup services and photography for brides and bridal parties, and photography division MESS Studios has been recognized as an industry leader in new talent portfolio production and promotional photography for models, actors and performers. MESS Makeup also has created a uniquely colorful line of pure mineral makeup, MESS Pro Mineral, and supplies available from their retail store (located at 224 W. 30th Street) and their Web site.

For more information about their products and services, please visit www.messnewyork.com
Status

Private Company

Founded

2004

# Employees

10
Company History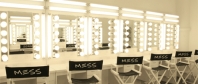 We believe in our products because we know that these colors, finishes, formulas and textures don't exist anywhere else. MESS mineral makeup is simply the best, all-natural mineral ingredients infused with all the colors of the rainbow, as well as some colors the rainbow never even thought of. Colors you see on fashion show runways, in top magazine photo spreads, on trendsetters and A-listers. Colors that the old-guard makeup corporations don't dare to look upon. That's right, we brought it, and we've done our best to make it easy to buy and easy to use.
But it didn't end there. In the process of setting up shop, something magical happened. We got into the business of makeup artists, too! New York City's fashion and beauty worlds rely heavily on the behind-the-scenes magic created by professional makeup artists, yet there was no permanent center for these artists to call home. MESS has filled this void in the industry, to the great benefit of professional makeup artists and the people who seek their expert services.
MESS Studios has amassed the largest stable of first-rate makeup artists on the East Coast. Need a makeup artist? MESS can deliver an artist or a whole team of them for any kind of project, regardless of scope or location. Wedding, photo shoot, film or music video: MESS will match you with the makeup professional perfect for your needs. MESS provides services for clients, makeup artists and the general public, but it is so much more than that. It's a disseminator of makeup knowledge, a retail store, a photo studio, a hive of talent buzzing with color and energy, a community space where people from all walks of life can learn, play, create and become more beautiful.