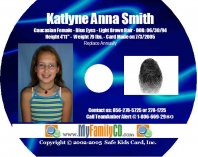 Safe Kids Card of NJ is owned and operated by Denise Bartlett, Anne Kubiak and Sue Beil. Our combined professional experience totals over 30 years of maintaining medical and legal confidentiality. Safe Kids Card of NJ is located in South Jersey in Gloucester County and services nearly the entire state. A Safe Kids Card CD is one part of My Family CD. Also available are Safe Adults Card and Safe Pets Card CDs. New Jersey's My Family CD Franchise owners are also qualified and certified to teach safety, abuse and abduction prevention.
Our CD IDs are the ultimate identification tool. The CD is about the size of a business card and therefore, multiple CDs are convenient to carry at all times in the event of an emergency. Each CD contains three digital photographs, a digital fingerprint (same technology as Homeland Security), easy to follow directions to print, fax, e-mail information as well as how to add a video or document like custody or adoption papers. Also, each CD includes safety tips and since our form is taken from that of a police report, it can significantly aid law enforcement and the Amber Alert System.
It is important to be prepared at all times in the event of any emergency. Our CDs are processed, returned to the recipient with all his/her original forms and information. Safe Kids Card of NJ does not keep a database, files or digitally store any information on or off the internet.
Endorsements include: Missing & Exploited Children's Association, Project Oasis, Children Alert, Team Amber and recommended by law enforcement agencies nationwide including Mantua Township and Camden Police Departments.