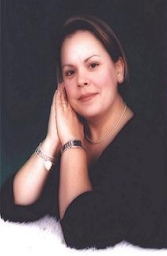 The Artist
Cynthia Salas, a Talented artist, not only in design but also in color and Inventor of the Bella Hair Stick and Bella Topper, has launched CScreations.com (http://www.cscreations.com) Dedicating her time and energy into creating beautiful artistic creations created of Genuine Gemstones for women of all ages, Cynthia has taken an Old cherished item and added a twist to it.

CScreations Bella Hair Sticks were created to bring out the Beauty, Classiness & Softness of all women.The creation of the Bella Hair Stick came after using chopsticks for several years to hold French Twists in place. Chopsticks were long and not very elegant. What was needed was a hair stick that was shorter and had a nicer design. Looking over the bundle of hair sticks collected over the years, Cynthia started to think of a way to be able to use one hair stick with several different tops. A year later the First Interchangeable Bella Hair Stick and Bella Topper was created. Friends loved the idea and said it needed to patented. Bella Hair Sticks are currently in the Patent-Pending Process and are quickly picking up in pace with celebrities and Media Attention from the Fashion Magazines.
Status

Private Company

Founded

2000
Company History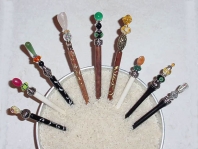 What is a Bella Hair Stick and Bella Topper:

Bella Hair Toppers are based on a stick which has an end with a hole to screw in different tops that are adorned with crystals, semi-precious stones & silver or gold spacers. Bella Toppers can only be used on Bella Hair Sticks and because they are interchangeable, you need only 1 or 2 Bella Hair Sticks and an assortment of Bella Toppers.

Cynthia's first creation was the Anklet. From there her creativity flowed into creating Jewelry sets, Charmed Bookmarks, Bracelets and Hair Charms. What started out as a mere hobby turned into a business. It is her belief that her Invention of the Bella Hair Stick is what truly gave her the desire and drive to move forward with building a company.

CScreations- a company which takes pride in High Quality Craftsmanship & Exemplary Customer Service offers their customers Free Shipping anywhere in the states, Gift reminders, Free Gift Boxing, Free Organza Mesh Bags to store CScreations, Newsletters once a month giving the customers a sneak preview of sales before the general public and most importantly is the 100% Guarantee of all Cscreation products.