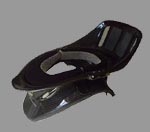 The Leatt Corporation is in the business of designing, developing and manufacturing cervical spine (neck) protection equipment for all forms of motor sports.

The company has its global distibution headquarters in Nevada, USA, and it operates its Production and Research & Development facility from Cape Town, South Africa. The company distributes is products to a global customer base. Orders are placed through an Internet based system.

The main area of focus is the prevention of neck injuries in persons wearing a crash helmet, for whatever purpose. The impetus for the project came from Dr. Leatt's medical knowledge, his history as a motorcycle racer and the many neck injuries he has witnessed. The product not only has motorsport applications but can be used by anyone wearing a crash helmet as a form of protection.

The inventor, Dr. Chris Leatt, heads up global operations and oversees the Research and Development, ensuring that the Leatt-Brace™ becomes the gold standard for neck protection. The manufacture and marketing of the Leatt-Brace™ is the responsibility of National Sportsmen, Mark Hopkins and Karl Ebel respectively, with overview by Dr. Leatt and partner JP de Villiers.
Status

Public Company, Pink Sheets, Symbol: LEAT

Founded

2005