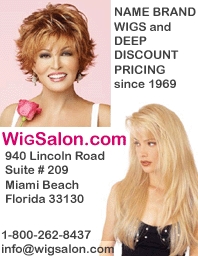 Over 3000 quality wigs offered with the deepest discounts & our world-famous easy-to-use web site, makes WigSalon.com fun for the fashion shopper and a must for all who wear wigs. WigSalon.com has been serving the world community since 1969.

Call WigSalon.com at 1-800-262-8437, to discuss your desires with experienced wig experts. If requested, our friendly staff will also provide no-cost Style Consultation via email. Our email address is: info@wigsalon.com. WigSalon will answer your wig questions promptly.

Name Brands Include: Raquel Welch Wigs, Noriko Wigs, Rene of Paris, Revlon Wigs, Wig Pro Human Hair wigs, Henry Margu, Eva Gabor and many others. We look forward to being your personal and private wig salon.
Status

Private Company

Founded

1969

# Employees

5
Company History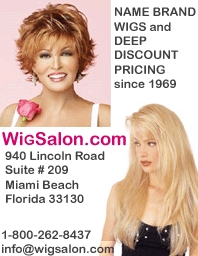 WigSalon.com started in 1969 as Paris Boutique & Wigs by Albert Aronesty in Atlantic City, New Jersey. When the Internet became feasilbe, Albert's son. Joseph took the shop and put it online in 1995. WigSalon.com was the world's first comprehensive wig salon on the Internet. It now distributes fine name brand wigs to almost every country in the world, at prices that could never be matched in a salon. WigSalon is now located in Miami Beach, Florida. Some of the brands they distribute at discount prices include Raquel Welch, Eva Gabor, Noriko, Henry Margu, Revlon, Louis Ferre and Jon Renau.