New Hair Enhancers Are More Comfortable Than Wigs
This new design for wigs is called a hair enhancer because it really is not a wig, though it looks like one. Hair enhancers are lighter than wigs, and are effective for women who have little or thinning hair, but are not bald.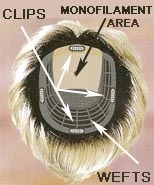 Miami Beach, FL, October 25, 2007 --(
PR.com
)-- Noriko of Japan, creators of fine
wigs
since 1969, has released brand new cap designs they call Hair Enhancers. If you were to take a wig and remove the part that stretches back down to your neck, and then also remove the part that stretches forward to your bang area, you would have the basic shape of Noriko's new Hair Enhancers. The front part of the cap, in the tan area of the image below, is "Monofilament". Monofilament caps allow you the freedom to part your enhancer where you like it, and feel very soft to the scalp, if you are sensitive in that way.
The back part of Noriko's Hair Enhancers are made with a Ventilated Weft design, so they breathe easy. You can also "tease up" some crown height and add volume in the weft area.
Because these are not really wigs, they do not stretch around your head so 4 pressure-sensitive wig clips are used to attach the enhancer to your existing hair. Important: This means you have to have some hair to attach the hair enhancer.
Noriko's New Enhancers work best for those that have short hair or thinning hair that is short to medium length. You will find them cool because you are not circled in as with a wig. The enhancer rests comfortably on top of your head and the clips prevent slippage. They are also remarkably light-weight because of all the volume that has been cut away.
Select a color that blends well with, or is close to your own shade. It is not necessary to get an exact match because, as you can see, the Hair Enhancers have some bangs, and some hair in general extending over the edges of the base in all directions. You will integrate some of your hair with the Hair Enhancer, especially in the neck area where there is no hair at all. So, a color that does not clash is all you need.
If you have been looking for some relief from the heat of wigs, and have some thinning hair, you are going to find the hair enhancers truly delightful.
To view the two new Hair Enhancers as they are worn, see MILAN and LONDON on this page:
http://www.wigsalon.com/907.html
WigSalon.com is a privately held company in Miami Beach that distributes wigs for Noriko, Revlon, Rene of Paris, Henry Margu and many other well-known wig-makers.
Contact information:
WigSalon.com
940 Lincoln Road #209
Miami Beach - FL 33139
email: info@wigsalon.com
1-800-262-8437
###
Contact
WigSalon.com
Joe Aronesty
305 868 1887
www.wigsalon.com
786 261 1947 - cell for Joseph CEO

Contact