Sources for Human Hair Wigs Are Challenged Due to Changing Economic Conditions in the Far East
The declining US dollar, and outsourcing of US jobs has created a boom in Far East economies. Traditionally the world's source for human hair, Asian women can now afford to keep their own hair and embrace American beauty standards. This may leave those who use human hair wigs for medical or cosmetic reasons in a bind in 2008.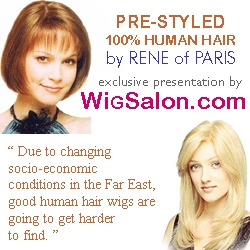 Miami, FL, November 20, 2007 --(
PR.com
)-- Due to changing socio-economic conditions in the Far East, human hair
wigs
are getting harder to find, and will be more expensive by early 2008. Fortunately, these changes will not affect synthetic wigs, nor monofilament wigs. WigSalon.com has had discussions with Rene of Paris, and they bought wisely in anticipation of these changes, so right now Rene of Paris Pre-Styled Human Hair Wigs are not affected and are looking like excellent values.
What is really happening in the Far East is that their economies are suddenly doing much better. This is not really news any more. We hear this every day on the TV, and a lot of it is outsourcing jobs from the USA.
But, what is news is that women in Asia are now adopting American beauty standards. That means that long beautiful hair is now so highly valued, Asian women don't want to sell their hair. And now that they can afford not to, it is actually "getting hard to find human hair donors."
This emerging Asian beauty trend is not likely to stop. In fact, long human hair is now harder to find that short human hair. So that's why WigSalon.com says to acquire your human hair wigs in 2007, because changes are on the horizon and this world does not stop turning.
Pre-Styled
Human hair wigs
will outlast synthetics 3:1 and look absolutely stunning without the need for salon alterations. WigSalon.com does not recommend waiting if there is something you have been wanting or will soon need in human hair wigs.
For more information, go online to: http://www.wigsalon.com/human-hair-trends.html
WigSalon.com
940 Lincoln Road #209
Miami Beach - FL 33139
email: info@wigsalon.com
1-305-672-3131 FAX: 1-305-574-7722
###
Contact
WigSalon.com
Joe Aronesty
305 868 1887
www.wigsalon.com
786 261 1947 - cell for Joseph CEO

Contact