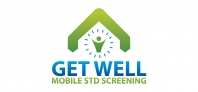 Get Well Mobile STD Screening has been called the Uber of STD Testing. We send nurses and certified medical assistants to individual's homes for STD testing and treatment.

While some STDs have symptoms...others do not. This is one reason why STD testing is so important. Some people who think that they may have an STD may not have the time or money to go get tested. Other people are embarrassed to get tested and simply will not go to the health department or to their doctor. At Get Well Mobile STD Screening we come to you. Although we are based in Atlanta, Georgia, we have clinics in most large cities across the country. So, people can simply walk into one of our Get Well Satellite STD Clinics and get an HIV test, Gonorrhea and Chlamydia test with GC/Chlamydia treatment for $100.

Our services are discreet and confidential. If you want us to come to you, call us at (770) 741-0060. In 2017, potential patient will have the ability to request in-home testing and treatment by using our Get Well Mobile STD App.
Status

Private Company

Founded

2017

# Employees

8