Since 1989, C² Technologies, Inc. has partnered with its federal government, defense, and commercial customers to deliver innovative performance improvement solutions that span diverse practice areas, such as training and development, strategic human resources management, mission-critical outsourcing, and information technology. Headquartered in Vienna, VA, C²'s 400 employees serve clients in 26 locations.
Status

Private Company

Founded

1989

# Employees

400
Company History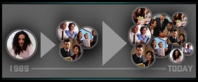 C² Technologies, Inc., was founded in 1989 by Dolly Oberoi and Curtis Cox with the purpose of providing performance improvement solutions using a variety of media. C² has provided 14 years of exceptional support to clients in the public and private sectors. Ms. Oberoi and Mr. Cox's uncompromising spirit of innovation and their unrelenting drive to excel have fueled C²'s explosive growth, and led the company to develop revolutionary high-technology solutions to workforce issues that have plagued businesses and government for years.

From our initial site in Chevy Chase, Maryland, we have spread our wings by opening offices at locations nationwide. We currently serve Fortune 100 companies and every federal agency.