Most businesses struggle to align their marketing strategy with their growth
initiatives. At yorCMO, we develop custom marketing strategies to help close this
gap. Our strategies bring clarity to your marketing while producing more leads, sales, and revenue for your business.

We serve B2B and B2C companies, regardless of size or industry type, with leadership, expertise, and customized marketing solutions ‒ but at a fraction of the cost.

We help growth-minded CEOS get the hands-on marketing expertise they need. By partnering on the C-Suite, our marketing experts fully engage with your company, aligning your marketing moves with your revenue goals and giving you clarity for continued, predictable growth.
Status

Private Company

Founded

2016
Company History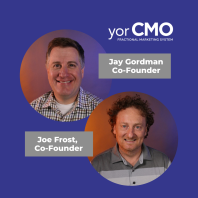 Jay Gordman and Joe Frost started yorCMO because too many of their business friends struggled with marketing. They were spending money they shouldn't be spending on activities that didn't support their goals.

But that was just the symptom. The illness was a lack of marketing expertise, resources, and time.

To help their friends and others with growth-minded businesses address these common problems and provide way better marketing, Jay and Joe created the yorCMO fractional CMO model.

Now it's possible to achieve excellent marketing that drives sales, without wasting time or money.