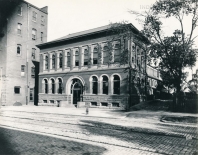 We have been corporate storytellers for more than 70 years. At Cinécraft, we produce high-definition video, develop eLearning courses and design high-end animation to support the goals of Fortune 1000 companies and medium to large sized businesses.
Status

Private Company

Founded

1939
Company History
Cinecraft arguably has been innovating longer than anyone else in the industry. In 1939, our original owners started Cinecraft as a corporate training film company. They came from Hollywood where they produced films with Gene Autry. Settling in Cleveland to be closer to family, they discovered a need to tell instructional stories through film. They began by helping organizations like GE Lighting, LTV Steel, The Sherwin-Williams Company, and The Department of Defense communicate more effectively, transfer knowledge and change behavior.
In 1985, new owners took the reins and switched the company's focus from corporate film production to corporate video production. Video continued to deliver the same message as film, but was much easier to produce and more cost-effective.
When clients desired the ability to track learners using computer-based training, back in 1992, Cinecraft began using Authorware. These early computer-based courses included database functionality to track and report learner engagement.
Since then, our products – and the processes we use to create them – continue to evolve based on the needs of our customers. We utilize a wide variety of eLearning authoring and development tools (Flash, Lectora, Articulate, Storyline, Captivate and 3D Animation tools, etc.) to generate courses that can be viewed on traditional computers, tablets and mobile devices.
Clients desire to use storytelling in their training programs, and Cinecraft's unique background enables us to smoothly blend video and animation into their eLearning courses.
The tools have changed over the years, but what has not changed is the need to communicate, transfer knowledge, and change behavior with the ultimate goal of making organizations more efficient and profitable.