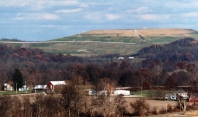 Formed in 1987 and based in Bolivar, Ohio, Club 3000 is registered as a 501(c)(3) non-profit organization dedicated to the protection of future generations from landfill contamination. Club 3000 is a grassroots environmental and community advocate that has inspected and monitored a Stark County (Ohio) landfill known as Countywide Recycling and Disposal Facility, located in Pike Township (Village of East Sparta) for more than 15 years.

During that decade and a half, Club 3000 inspections have publicly revealed the dumping of radioactive waste, hazardous waste (e.g. lead), and whole tires, as well as apparent working condition violations, dust releases, solid waste odors, and a host of other potential environmental violations, many of which have been the subject of media reports.

Club 3000's contractual inspection and monitoring rights of the Countywide landfill remain a matter for the Ohio court system because a 1990 settlement which created those rights has been challenged by the landfill operator, Republic Services of Ohio II, LLC. Club 3000 filed a notice of appeal with the Ohio Supreme Court in this case on January 12, 2006 (Republic Services of Ohio II, LLC v. Club 3000 Ohio Supreme Court Case No. 2006-0074). Republic Services of Ohio II, LLC is a subsidiary of Fort Lauderdale, Florida based Republic Services, Inc. (NYSE: RSG).

All brands, trademarks and trade names are the property of their respective owners.
Status

Private Company

Founded

1987