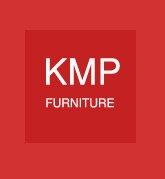 KMP was created with you, the customer in mind. We stand firmly behind everything we sell. Whether we are combing the globe for the finest furnishings available or backing every sale with the best customer service in the industry, rest assured that we are committed to your complete satisfaction.
At KMP, we understand that each of our customers is unique and has their own tastes when it comes to the décor for their home or office. That's why we work closely with you to understand your individual needs, whether its styles, fabrics or colors. Just pick up the phone and one of our knowledgeable associates will be more than happy to provide you with the best advice possible. And if there's something you don't see, ask. We have a network of some of the best manufacturers in the world and can usually find the perfect piece for you.
With backgrounds in architecture, interior design and fine arts, KMP's founders have their pulse on the latest trends as well as the classics in modern design. All of our products are aesthetically pleasing, finely crafted with top quality materials, and extremely functional. It is our goal to help everyone incorporate great design into their everyday lives, bringing style and elegance to their home or work environment.
Perhaps most important, the professionals at KMP celebrate the spirit of modernism by providing you with the classics in modern furniture from the likes of Le Corbusier, Eero Saarinen and Charles and Ray Earnes while introducing new pieces that we believe are destined to become the "classics" of the future. Good design at KMP never fades with time as long as "form follows function."