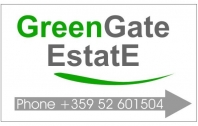 Customer fidelity real estate agents and property specialists offer you long term partnership in buying, selling, building or managing your property in Bulgaria. Ask for more... www.greengateestate.com

GreenGate Estate unites the efforts of real estate agents throughout Bulgaria to bring the best Bulgarian properties for sale on the world market offering high level of customer orientated and reliable service.

GreenGate Estate is a real estate department of VVM Engineering Ltd, the leading telecom systems integrator in Bulgaria.

GreenGate Estate is established to provide services on the real estate market predominantly to foreign citizens and therefore has established international management procedures and has qualified multilingual staff.

We founded GreenGate Estate to bring the best experience, service and market knowledge to clients who want to buy, sell or invest in real estate in Bulgaria.

The endeavors of GreenGate Estate are turned to ensure that the purchasing process is simple, fully explained and as cost efficient as possible. At the same time our goal is that you feel relaxed and content all the time you work with us.

Privacy Notices

We respect the privacy of your personal information.

The data in your profile we are using for your convenience only for sending required information by e-mail, or in case of shipment of documents.

We are not distributing in any intentional way or by chance your personal data, also information about deals and services we provide to you.

We offer our clients:

А complete service you need in regard of purchasing property in Bulgaria:
- Info on property market in Bulgaria;
- Complete info on our current list of properties;
- Focused search of properties in Bulgaria based on your specific demand;
- Complete info on the property purchasing process in Bulgaria;
- Competent legal advice and links to solicitors;
- Refundable viewing trip arrangement;
- Welcoming you at the airport and transfer to your hotel;
- Viewing trips with experienced agent speaking fluently your language. He/she will help you select the best property currently available on the market, no difference if it is on our list or just anywhere round Bulgaria. His/her goal is to become your trusted agent and will spend with you the time you need;
- Give you our professional advice in regard of the property selection upon your request. Our goal is to have you content not only at the time of purchase but for many years to come;
- Check of all papers prior to purchase and preparation of all contracts ant deeds;
- Securing of all legal aspects of the purchase including company setting;
- Managing the purchasing process to a successful end;
- Handing over to you title deeds and all documents related to your property ownership;

After sale service including:
- Management and maintenance of your property including renting it for you;
- Reconstruction and repairs;
- Furnishing and finishing jobs;
- Accounting and bill setting;
- Welcoming services like airport transfers for you or your guests, goods purchase prior to your arrival, etc.

We can help you develop a project related to real estate in all stages on your request. The experience we and our partners have in real estate investment, allow us to be your knowledgeable partner or advisor.

Our employees will:
- Assist you to make the right choice;
- Assist you with negotiations to purchase at the best price;
- Assist you with the setting up of a company;
- Deal with lawyers and notaries till the end of the purchase;
- Save your time, money and effort.
Status

Private Company