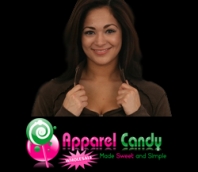 ApparelCandy.com established in 2007, is a wholesale clothing, jewelry, sunglasses, fashion accessories, cosmetics, perfume and fragrances, women's plus size clothes distributor in Los Angeles, CA. The company's mission is to provide unparalleled customer service support, quality merchandise at a rock bottom price wholesale apparel and accessories to online and offline retailers. ApparelCandy.com is an all-in-one resource for all wholesale clothes and fashion apparel. The company offers trendy fashion clothing and accessories of the season with prices anywhere from $2.50 a piece where retailers can sell from $10 - $12. Save big up to 80% below wholesale price!
The company's ordering process is seamless. Simply pick the item, style and pre-pack quantity then proceed to checkout. Multiple payments are available. Credit card, cash or checks are accepted. Orders by email, phone call and by fax are also entertained. FREE SHIPPING all year long is available for orders $200 and above. Sweet special deals and promotions are available on a weekly basis thru ApparelCandy's e-newsletter subscription allowing for further savings out of already bargain wholesale prices available on site. Besides that, their affiliate and dropshipping programs are uniquely created for anyone who are interested in making extra income with hardly work required.
ApparelCandy.com is truly the a one stop shop fashion destination with unbeatable price of up to 80% OFF no one can beat. For apparel, accessories, wholesale sunglasses, cosmetics, fragrance and perfumery, shoes and wholesale jewelry, Apparel Candy is your go to online wholesale distributor!
ApparelCandy.com is available Monday – Friday from 9 am – 5 pm Pacific Standard Time and can be reached at 1-877-870-8686, email at info@apparelcandy.com or online at http://www.apparelcandy.com.