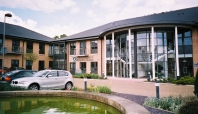 January 1993: Atlantic EC Ltd was launched to explore the possibility of developing a suite of low cost, yet high quality, business software products in the Time Management field.
1993-1994: Additional developers were hired, with Microsoft Windows development skills, to speed up the development process and version 1.0 of Timesheet Expert was launched in March 1994.
Summer 1994: Atlantic Global secured two contracts, with Glaxo Wellcome and Pfizer, both for £5,000 each. This breakthrough established the company as an emerging supplier of time management software.
1998: Atlantic EC's success continued with consistent development of the software and with continued releases resulting in the Atlantic Business Suite.
June 2001: Atlantic EC listed on the Alternative Investment Market raising net proceeds of £1.58 million at a share price of 25 pence valuing the Group at the time at £5.18 million.
2002: The next introduction followed with Adeo that brought together ten years of software development into one integrated business solution.
2004: Atlantic Global launched Corporate Vision, a major new module aimed primarily at corporate planning and real time control, by enhancing milestone planning, budgeting and other forecasting needs at a corporate level.
2006: March 2006, Atlantic Global started the development of the OnDemand offering. It emphasised scalability but also introduced many new features including multi-lingual to support the expansion of the user base into new markets.
2008: October 2008, Atlantic Global successfully launches the OnDemand model.
Summary: Since 1993 we have continued to develop our customer list as a result of our commitment to high standards of customer satisfaction and have developed close working relationships with a "blue chip" customer base which is spread over a broad range of industries such as pharmaceuticals, telecommunications, finance, computer services, local government and other services.