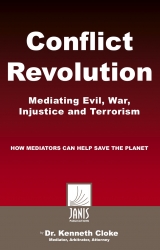 Santa Ana, CA, August 15, 2008 --(
PR.com
)-- Janis Publications Inc. announces it has launched a program to provide one thousand of Dr. Kenneth Cloke's new book Conflict Revolution: Mediating Evil, War, Injustice and Terrorism to thought leaders in the United States and globally.
Ken Cloke is one of the foremost authorities on the origins of past and present day conflict, and how it is resolved. From the basics of interpersonal relationships and emotions to crime, labor management relations, prejudice, the environment, politics, education and economics, in Conflict Revolution Ken walks us through what it means to become a global citizen on this planet and empowers us with techniques that are different from what we have done unsuccessfully for thousands of years.
Ken states, "It is increasingly clear that our most pressing problems are global in nature, and cannot be solved using military, competitive, or adversarial processes. Instead, we require dialogue, collaboration, and conflict resolution to create the deeper, more lasting changes that are needed. Conflict Revolution is my effort to apply these principles to social, economic, and political conflict."
"We decided to take a unique approach to getting Ken's important message out. By providing one thousand Conflict Revolution books to political leaders, mediators, business people, international elders and others who are respected for their views and achievements, we believe Ken's words will contribute positively to the dialogue concerning all countries and our planet", said Raymond Sobol, Vice President of Janis Publications Inc. "Conflict Revolution is 'must read' for everyone. It will change the way you see the world and your important role in its future."
Janis Publications Inc. is a California based publisher focusing on topics promoting conflict prevention, conflict management and dispute resolution. Conflict Revolution: Mediating Evil, War, Injustice and Terrorism is available from Amazon.com, Barnes & Noble, book retailers worldwide and from the publisher's website www.janispublications.com in book and e-book format.
###