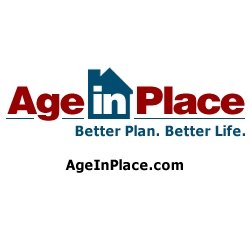 Ocala, FL, August 22, 2008 --(
PR.com
)--
AgeInPlace.com
announces the launch of a free Personalized Assessment that provides Baby Boomers, as well as those caring for older people, with valuable information about modifying their home to age in place. Incorporating information from several care and service industries, the assessment is at aimed assisting people to discover and learn about areas in their home that can be modified to help them as they grow older.
The assessment, which most users only require 4-5 minutes to complete, asks the user a series of questions about their home and physical abilities. After answering the questions, a Certified Aging in Place Specialist on staff at AgeInPlace .com will review their answers and prepare a report with the home modifications they may wish to consider. A report is then emailed back to them. The report also will contain information on local and state resources, any information that can be included on specific physical needs they submitted, as well as answers to any questions they submitted.
"This new tool is perfect for those wishing to gain a better understanding of how aging affects their interaction with their home," says JayHager, V.P. of Strategic Development for Age In Place Networks, LLC, the company behind AgeInPlace.com. Hager , a Certified Aging in Place Specialist and Realtor®, is specifically focused on creating a valuable educational resource for Baby Boomers; many of which are already caring for elderly parents. "Our goal is to build an information and resource center online where people can come to get assistance in planning their older years or ideas to help them care for their loved ones."
"Aging in place" is a term used to describe someone choosing to stay in their homes for as long as they can as they age. The term was coined to reference the desire of Baby Boomers to stay out of nursing homes and assisted living facilities, and remain in their homes. The ability to stay in one's home longer is supported by the work of many disciplines, including universal design, accessibility, occupational therapy, construction, real estate, financial services and others. This ability is also supported by the efforts of the qualified professionals nationwide that work in these service industries.
When asked how people could use the information in the Assessment report, Hager said, "We're a starting point. Once someone receives the report and has learned which modifications might be useful to them, they can take that information to a local professional who can help them make it a reality." The report also contains information about professionals in their area or state who can work with them, as well as resources they can contact for more information or assistance. But, the service doesn't stop there. People also can sign up to receive a newsletter and updates from the website, as well as interact with other consumers or professionals in their forum.
About AgeInPlace.com
AgeInPlace.com is the Internet destination for people to discover relevant and useful information about aging in place. The site is uniquely positioned to provide a more encompassing look at the aging in place movement through topics such as home modifications, real estate, finances, health care, technology and resources. The site brings together news and information from a wide variety of sources to assist them in increasing their quality of life as they age, while maintaining independence for longer. Visitors can partake in discussions with qualified professionals, take advantage of tools such as the Personalized Assessment and gain even more information through email newsletters.AgeInPlace.com is an Age In Place Networks, LLC website.
###