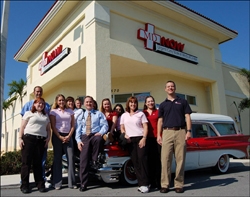 West Palm Beach, FL, August 22, 2008 --(
PR.com
)-- MD Now Urgent Care Centers, a young company which provides urgent care medical services to consumers and occupational health services to businesses, has opened its new location at the NW corner of Powerline and Palmetto Park Roads in trendy Boca Raton, Florida.
The upscale urgent care center, owned by Dr. Peter Lamelas, is the third of its kind to open in Palm Beach County the same number of years. Dr Lamelas, a Board Certified Emergency Medicine physician and former ER Director for over 17 years, hit a home run when he opened the first location in Lake Worth, a suburb of West Palm Beach, in January of 2005.
The new clinic boasts an atmosphere more reminiscent of a day spa than a cold and sterile medical clinic - with bottled water in the waiting room, granite countertops and artwork of natural surroundings throughout. Every room is a private room and is equipped with its own flat screen television set. But patients shouldn't get too comfortable, however, since most of them will be seen, treated and released within an hour.
All MD Urgent Care Centers are staffed with board certified physicians and open 12 hours a day, every day, from 8 am in the morning until 8 o'clock at night. All of the centers have onsite digital X-ray, in-house labs and provide EKG's for those who need them. The clinics provide walk-in medical care for unexpected illness or injury, as well as make appointments for even speedier service.
They accept self-pay or commercial insurance plans and are providers for all major insurance companies, including Aetna, Vista, Blue Cross-Blue Shield, United Healthcare, Cigna, Humana, AvMed, Medicare, and many others.
The clinics also provide flu shots, treatments for the flu, school, sports and camp physicals, D.O.T. physicals, Immigration exams, confidential HIV and STD testing, laceration repair - even FAA pilot medical exams and travel medicine vaccines.
A growing list of businesses also like to refer their injured workers and pre-employment drug screens or physical exams to MD Now Urgent Care Centers because of their convenient hours and locations – most occupational medicine clinics close at 5pm – and for obvious economic reasons: The cost of urgent care is often less than one quarter of the cost of a visit to an emergency room or hospital based "Fast Track" unit.
All doctors at MD Now Urgent Care Centers are individually certified as Workers' Compensation Healthcare Providers by the State of Florida.
To what does Dr Lamelas attribute his great success?
"My centers are successful because I am involved in every aspect of the business. When I opened my own place, I wanted MD Now Urgent Care to be the Opposite of a hospital emergency room! I wanted my staff to be patient service oriented, with patients being seen, treated and released promptly and efficiently, with reasonable fees, only the highest quality medical care and best of equipment."
Dr Lamelas' urgent care centers utilize a sophisticated computer system with all electronic medical records. Wait times are monitored and patient names pop up in red to alert providers they have reached the maximum threshold for wait times.
The urgent care centers have been so successful that Dr Lamelas, who also has a Master's degree in Business Administration from Nova Southeastern University in Fort Lauderdale, is scheduled to open a fourth location in the prestigious Palm Beach Gardens area this August.
"As Owner and Medical Director, I oversee my operations every day, both personally and via computer," says Dr Lamelas. "I monitor the wait times, the courtesy and efficiency of the ancillary staff, and the quality of the medical care being provided – every day!
"No hospital or corporate medical entity could ever do that."
###