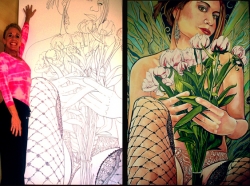 Sausalito, CA, August 23, 2008 --(
PR.com
)-- Femina Potens Gallery, located in the Castro District of San Francisco, focuses on building relationships and recognition between cutting edge LGBTQI and Erotic artists and artworks, venues within the greater queer, feminist, wellness and sex positive community. After reading this Nancy Peach was drawn in and intrigued. In fact she joined and submitted her 5 images to them in a split second. Her adrenaline was pumping as she though of the potential opportunities that would come from being represented by the Gallery.
She received an email back from Tina Butcher, the executive director. Tina expressed how she was blown away by Nancy's sensual nude paintings. Nancy was on her way.
Nancy was offered venues to show her work in the city. She had to get busy and start creating new work. The inspiration really came when she watched a dancer one night performing in a provocative fishnet outfit. Nancy had to paint her for the show she was creating. Connecting with the dancer backstage to introduce herself as an erotic artist and invite her to pose for Nancy was the first of many wonderful connections Nancy has made since her immersion in the Erotic Artworld.
Good Vibrations Polk Street Store is presenting her on September 4th at 6pm to 8pm. The show is going to present her newest work. Sensual, erotic, art that is larger than life. The large, 4' x 6' canvases will fill the space at Good Vibrations until September 29th, 2008. Small Giclee prints on canvas will be offered for sale along with the original. Admission is free and refreshments are offered.
One Taste Urban Retreat Center, located at 1074 Folsom St., San Francisco is presenting her the next night. Friday September 5th @ 7pm - 9pm. Her show at OneTaste is a wonderful retrospective of her lifes work. This is a collection that has been in her possiission for the past 20 years. The work is subdued, emotional, understated and quite alluring. The "Mare", a large 5' x 6' painting, was once part of a 30 ' mural that hung in the Marin Showcase House, Equestrian Manor. When she uninstalled the mural from the home she decided to cut it up, having her favorite images stretched on canvas.
Lastly, she is going to be in attending the West Hollywood - Los Angeles
Erotic Art Weekend 2008. The event is 99% gay erotic artists. Nancy was warned by the Tom of Finland Foundation to expect all gay men at the event.
They have been trying to open it up to women, but have had no luck. For
me Gay men are awesome. Embracing their sexual selves openly has always
been a great turn on for Nancy. This event takes place over the weekend of October 4th and 5th.
All this excitement and the wonderfully talented Nancy Images. The image
that is presented here with the comparison of Nancy to the painting, gives the viewer a feeling for the size of these works of art.
Contact: Nancy Peach, 3 Flemings Court, Sausalito, California. 94965
Phone: 415 331-3613 Email:
npeach6@aol.com
www.nancypeacherotic.com
###