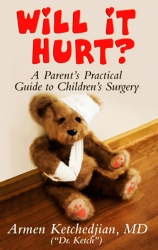 New York, NY, August 26, 2008 --(
PR.com
)-- This year, more than five million kids will undergo surgical procedures. And for those children and their parents, few things in life are scarier. Most parents don't know where to begin when they hear, "Your child needs surgery" from their pediatricians. Fortunately, they can start here.
The healthcare needs of children are very different from those of adults. Because of this, it is crucial that children's healthcare is provided by trained pediatric specialists.
"Parents ask me all the time, 'How do I prepare my child for surgery?'" says Dr. Armen G. Ketchedjian ("Dr. Ketch"), author of the book Will It Hurt? A Parent's Practical Guide to Children's Surgery. "Once they have identified the surgeon and the medical facility where the surgery will take place, preparations for the procedure will begin."
In his book, Dr. Ketch provides crucial support, information, answers and counseling that parents and their children need at the time of a medical crisis. Parents should keep these tips in mind when discussing the medical issue at hand:
Manage your own anxiety
• Talk with family, friends and your child's doctor about any questions you have.
• Find a positive outlet for your emotions and anxiety—talk with a friend or your doctor or nurse. Your emotional state will be reflected by your child.
• Exercise, eat well and get plenty of sleep.
Ease your child's anxiety through assurance
• Try to refrain from telling your child that needles will not hurt (do not mislead them).
• Use a doll or stuffed animal as a patient.
• On the day of the surgery, distract your child with toys or non-pertinent conversations.
Use simple words and phrases that your child will understand
• "You are not having surgery because you were bad."
• "The doctor is going to fix your arm"—not "The doctor will cut your arm."
• "The doctors will help you take a nice nap."
Ask your child what he or she is thinking and feeling about the surgery
• "What are you wondering about your surgery?"
• "What do you think is the hardest part about having an operation?"
• "Which T-shirt would you like to wear to the hospital?"
"Parents can greatly help their children anticipate what to expect and allay any anxiety by being loving and supportive," says Dr. Ketch. "Your support, along with the assistance of the operating room staff, will make the events pass quickly."
Will It Hurt? will help educate parents about pediatric surgery. It is an easy-to-read resource that will give you, your child and your family the help and reassurance you need to make the surgical experience as stress-free as possible.
Listed in The Guide to America's Top Anesthesiologists by the Consumer Research Council of America, Dr. Ketch trained at Cornell Medical Center with a fellowship at Memorial Sloan-Kettering Cancer Center and a pain management elective at Boston Children's Hospital. He has worked to help develop new techniques in ambulatory anesthesia, taught medical students and residents, and cared for more than 10,000 patients.
Dr. Ketch is also the author of the children's book Golden Apples (winner of the 2008 Reviewer's Choice Award), a beautifully illustrated book that aims to help educate children about the dangers of drug abuse.
For more information, contact the author directly at support@dr.ketch.com.
Warren Enterprises, LLC and author Dr. Armen G. Ketchedjian chose Arbor Books, Inc. (www.ArborBooks.com) to design and promote Will It Hurt? Parent's Practical Guide to Children's Surgery. Arbor Books is an internationally renowned, full-service book design, ghostwriting and marketing firm.
(Will It Hurt? Parent's Practical Guide to Children's Surgery by Dr. Ketch;
ISBN: 0-9815373-0-8; $14.95; 172 pages; 5½" x 8 ½"; softcover with illustrations; Warren Enterprises LLC)
###