Web Designers and Developers Can Test IE8 Beta 2 Without Impacting Their Current PC's Configuration
The new IE8 Beta 2 install from Microsoft limits a developer's ability to easily uninstall the new browser from their pc. CrossBrowserTesting.com now has IE8 Beta 2 configurations available for testing on their systems. A web developer or designer can test their sites to see if they work with IE8, without upgrading their personal computer system.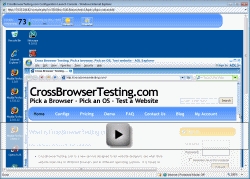 Collierville, TN, September 03, 2008 --(
PR.com
)-- Microsoft released the second beta version of its highly anticipated browser, Internet Explorer 8 (IE8), late last week. Developers wanting to test their sites on this new version of IE8, however, have reason to pause before downloading and installing this beta version on their pc. According to Microsoft, there are situations where the new IE8 cannot be easily uninstalled from a pc unless the person installing it does some pretty extensive alterations to their pc before installing it (http://blogs.msdn.com/ie/archive/2008/08/27/upgrading-to-internet-explorer-8-beta-2.aspx). There have been some other articles detailing issues, including:
"IE8 beta 2 locks down some XP lovers" -
http://www.theregister.co.uk/2008/08/29/ie8_xp_sp3_beta_2_lockdown/
"Want IE8 Beta 2? You may have to jump through hoops" - http://news.yahoo.com/s/nf/20080829/tc_nf/61616
If a web designer or developer wants to test the web sites they created using IE8 beta 2, CrossBrowserTesting.com has a simpler solution. CrossBrowserTesting.com has updated their testing configurations to include 2 configurations with Internet Explorer Beta 2 already loaded. Web professionals can simply go to www.CrossBrowserTesting.com, log in, and test their web sites using the new browser. CrossBrowserTesting.com has both a free option, which limits users to 5 minute testing sessions, and a paid option, which has no time limitation and gets priority when the configurations are in heavy demand. The paid sessions cost starts at $1 for 5 minutes, and the price decreases as larger blocks of credits are purchased. It is an inexpensive, easy, and safe way for web designers to try the new version of IE8 without spending a lot of time changing the configuration of their pc.
###
Contact
CrossBrowserTesting.com, LLC
Ken Hamric
901-355-2997
www.CrossBrowserTesting.com

Contact