Dental Marketing a Profitable Investment for Educated Dentists
To find patients in tough times, dentists are turning to dental directory marketing and dentist website campaigns for their dental marketing. Jim Du Molin offers a no-cost video tutorial.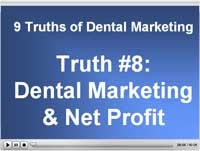 San Francisco, CA, September 07, 2008 --(
PR.com
)--
Dental marketing
is no longer an optional expense for dentists; it's something they need to do in order to keep their businesses afloat. To this end, dental marketing expert Jim Du Molin is introducing Truth #8, "
Dental Marketing for Fast Profits & Major ROI Results
," in the no-chare "The Nine Truths of Internet Dental Marketing." series.
"Dental directory marketing can generate tens of thousands of addition net profit to your practice annually," explains Du Molin. "But it's even more important to track the profitability of different new patient marketing vectors: yellow pages, direct mail, radio, even dental PR programs."
This video tutorial shows dentists how to calculate a new patient's marginal profit; that is, what's left in profit after the direct costs of providing the dentistry. From there, determining ROI, or Return-On-Investment, is a straightforward calculation based on the estimated value of a new patient.
"Tracking your Internet dental marketing results is basic business 101," emphasizes Du Molin. "Some find-a-dentist directory services (for example, 1stDDS.com) automatically track results for their member dentists. This is more than just numbers of clicks! It includes dental marketing expenses, net profit and ROI."
In this lesson, Jim Du Molin walks through a sample internet dental marketing campaign. He shows how to calculate which marketing campaigns (Cosmetic Dentistry, Sedation Dentistry, Dental Implants, etc.) do and do not make a profit. If the marginal profit isn't high enough, it's a waste of valuable marketing dollars. This sort of financial analysis can be easily applied to any marketing program."
"The real lesson is to be learned here is that computer systems are available to help you find out which of your marketing program are profitable and with aren't," advises Du Molin.
The final segment of the 9 Truths series will be released shortly. Entitled "Internet Dental Marketing: The 5 Biggest Mistakes," Truth 9 covers several deadly mistakes dentists can make when trying to promote their practices online.
To receive the complete series, visit http://www.internetdentalalliance.com/9Truths.htm to register at no cost. Internet Dental Alliance members also receive access to additional information on dental website development.
###
Contact
The Wealthy Dentist
Jim Du Molin
415-435-2820
http://www.internetdentalalliance.com/9Truths.htm

Contact