A Small Company Making a Big Difference by Creatively Empowering and Motivating Tweens and Teens to Make a Difference Today for a Better Tomorrow
dekoposh, Inc. releases their selections for Tween/Teen, Charity, and Celebrity for the month of September. dekoposh, Inc. believes in empowering tweens/teens to make a difference today for a better tomorrow by volunteering, giving back, and leading by example. dekoposh, Inc. is the premier designer of text messaging apparel.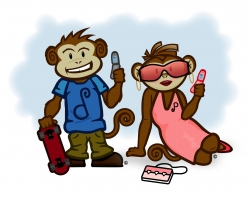 Clovis, CA, September 09, 2008 --(
PR.com
)-- dekoposh, Inc. a new emerging company that focuses on inspiring tweens and teens to get involved in their respective communities by making changes today so we can have a better tomorrow announces their selections for September. dekoposh, Inc. has started a new program where they will be highlighting a tween or teen, a Charity, and a Celebrity each month that they feel is either empowering others, making positive changes, leading by example, and/or giving back. Deko and Posh selected Leanna Archer for the tween/teen for the month of September, Blessings in a Backpack for the Charity of September, and Christina Applegate for the Celebrity of September.
Leanna Archer at age eight realized everybody has bad hair days and recognized her mother's homemade hair care products were the solution to help others improve their challenging hair problems. Now, at age 13, Leanna runs Leanna's Inc. www.leannashair.com a hair product company in Long Island, New York. She now speaks to other children empowering them to go after their dreams and she is starting a Magazine called "Thriving Thirteen." She has had many accomplishments at such a young age, she is Deko and Posh's pick for Teen of the Month of September 2008. www.leannaarcher.com
Blessings in a Backpack began in 2005 with just one school in Louisville, Kentucky. The program is celebrating its third year of operation outside of Jefferson County and the Louisville, Kentucky Metro regions. This program is designed to help meet the nutritional needs of children and families over weekends. The Blessings in a Backpack is a program being initiated through the efforts of concerned citizens. Every Thursday afternoon, volunteers will fill selected student's backpacks with non-perishable food items and pass them out to students on Fridays at the end of the school day... Hilary Duff supports Blessing in a Backpack through the Los Angeles Unified School District and Deko and Posh selected Blessing in a Backpack for their Charity of the Month of September 2008. www.blessingsinabackpack.com
Christina Applegate just had a double mastectomy-even though cancer was only found in one of her breasts. Her mother has battled breast cancer and when she had an MRI and they discovered breast cancer in one breast and later discovered she carries the cancer gene, she made the toughest decision ever, a double mastectomy. She sometimes cries and screams, but her bravery is amazing. Not many would have the courage to do what she has done. Over eight months Christina will have reconstructive surgery on her breasts and she says in her own words, "I'm going to have cute boobs 'til I'm 90." She is an inspiration and this is why Deko and Posh selected her for Celebrity of the Month of September 2008.
dekoposh, Inc. is empowering tweens and teens across the world and will be donating a portion of their sales to Blessings in a Backpack for the month of September and will continue giving back to a Charity each and every month. Stand Up 2 Cancer www.standuptocancer.org is another cause dekoposh, Inc. has contributed to during the month of September. All products and the story of dekoposh, Inc. can be found at www.dekoposh.com and www.dekoposh.blogspot.com.
###
Contact
dekoposh, Inc.
Dina Thomas-Virrueta
5597650713
www.dekoposh.com
www.myspace.com/dekoposh
www.dekoposh.blogspot.com

Contact