Pith-e Productions DVD Movie The Archaeology of Comedy at Blogworld & New Media Expo 2008 Exclusive Screener Available
The Archaeology of Comedy DVD will be available for critics and consumers to review and at Blogcritics.org / Technorati / Booth #321 at the Blogworld & New Media Expo 2008 Las Vegas, Nevada during September 20 and 21.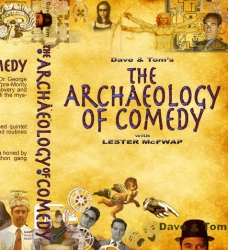 Las Vegas, NV, September 16, 2008 --(
PR.com
)-- Pith-e Productions new DVD release this year is available for sale on Amazon.com and through their website daveandtom.com and will have industry and buyer screener copies distributed free at the Booth 321 at this year's Blogworld and New Media Expo 2008 The genesis of the movie was the online web comedy videos that David Beeler and Tom Konkle have been doing for several years now in new media venues.
Pith-e Productions has been using the blogosphere and new media to get their work out to audiences and now they offer an original DVD of the two hour search for comedy's Holy Grail in Dave and Tom's outrageous look back at the history of a mysterious comedy troupe. You've seen actors Dave Beeler and Tom Konkle in other tv shows, now watch them discover a lost Monty Python-influenced sketch comedy troupe that bucks the norm of sketch today; instead opting for a more deliberate and cerebral approach. Delightfully nostalgic yet unmistakably original, you''ll be glued to your screen as they take a look back on "this business of funny." From prehistoric pornography to poetic clowns on mountainsides, after watching Dave and Tom you''ll agree that history has never been this much fun.
If you are attending the event, you will have an exclusive opportunity to get a copy of their spoof of BBC and Discovery Channel documentaries that promise to reveal a great mystery, this DVD is as one reviewer put it, "a silly journey through a world of scenarios... ranging from unfathomable science discoveries to absurd game shows, from sickly polite bank robberies to egomaniacal hat entertainers....their work achieves comedy on a level commensurate with Monty Python, Mr. Show and Little Britain, and highlights a sparkling sense of the off-color, rude and the importance of wacky nonsense. Always unexpected and always entertaining....."
###
Contact
Pith-e Productions
Tom Konkle
818-486-5385
www.daveandtom.com
Blogcritics.org / Technorati / Booth #321
Blogworld & New Media Expo 2008
C/O Freeman
6675 West Sunset Road (215 &Rainbow)
Las Vegas, NV 89118

Contact