Skylark Expands Capacity as Airlines Shrink
Shared-Ride airport shuttle service faces increasing demand as regional airlines cut capacity.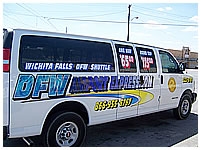 Wichita Falls, TX, October 01, 2008 --(
PR.com
)-- Skylark Airport Express will expand capacity on its shared ride Wichita Falls, Texas to DFW International Airport shuttle route beginning in October, 2008. Currently, Skylark operates three to five daily shuttles between Wichita Falls, TX and DFW Airport. Skylark plans to double capacity on two of its early morning shuttle runs as well as add one additional shuttle run to meet increasing demand.
"We have experienced a real and sudden increase in demand as the airlines have announced schedule changes and the elimination of flights and our expansion is definitely reactionary" said Skylark Vice President Candice Darnell. Skylark had previously planned to launch passenger ground transportation services between Wichita Falls, TX and Will Rogers World Airport in Oklahoma City, OK during the fall of 2009 and is now preparing to move up that launch date in addition to expanding its DFW Airport capacity.
Shared-Ride shuttle services between regional and major airports have always been able to compete with the regional air carriers by utilizing their in depth knowledge of local markets to offer personalized service with greater flexibility. "It is really all about connections and service" said Darnell. "By using a ground shuttle on the regional leg of a trip, a passenger can simply catch the next shuttle if their flight is delayed or canceled." "However, passengers choosing to connect with a regional flight may find that if their first flight was delayed or canceled, their connecting flight will often have departed, leaving the passenger at the mercy of the airlines or stuck in a hotel room" she added.
Ground transportation services can also offer reliability that is unmatched by any airline. During the period of January 2007 through June 2008, Skylark Airport Express achieved an on-time percentage of 99.985% with zero cancellations.
Since 9/11, the public has also come to realize that flying from a regional airport to a major airport has no time saving benefit over the local shuttle services. According to Skylark President Kevin Callahan, "Early airport arrival requirements have added so much time to flying that many airport shuttle services are actually faster than flying, especially those where the ground route is less than 150 miles." Despite increasing fuel costs, shared ride shuttle fares are typically 25-50% below comparable airfare and reputable shuttle companies rarely charge for extra luggage. Many shuttle companies, including Skylark, also offer door to door services, free parking for customer vehicles, luggage shipping services and free car washes.
The company is also moving up the timeline on some preplanned improvements to its infrastructure. "Skylark's online reservation and ticketing system has been in place for over a year and management is in the process of installing real time radar tracking of all inbound and outbound customer flights" states Candice Darnell. "Customers usually are not able to call us when they first learn their flight is running late, by tracking their flight with real time data, we are able to make sure that they make the best connection with Skylark and experience the least amount of waiting time" added Darnell. Skylark will also add additional telephone capacity to their local call center and will begin hiring additional reservation agents in early October.
Skylark Airport Express has operated a Wichita Falls, TX to DFW Airport shared ride shuttle service for more than 25 years. Skylark acquired DFW Airport Express in January of 2008 and, together with affiliate Skylark Taxi, is the largest passenger ground transportation provider in North Texas.
###
Contact
Texhoma Transportation Inc.
Candice Darnell
940-322-1352
www.goskylark.com
(940)636-6632

Contact