Haiti's Back May Be Broken, But It Still Remembers! Haitians Celebrate Vertieres Day in Berkeley November 15
Haitians in the Bay Area Celebrate 205 Years of Liberation from Slavery; Afro-Caribbean Band Kalbass Kreyol Headlines Haitian Cultural Extravaganza at Ashkenaz November 15; Concert to Benefit Cyclone Victims in Gonaives, Haiti.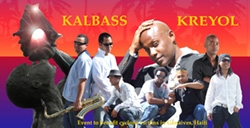 Berkeley, CA, October 04, 2008 --(
PR.com
)-- This November 15, Haitians and non-Haitians alike from across the Bay Area are coming together to celebrate two centuries of liberation from slavery and to manifest hope, freedom and peace for Haiti. 205 years ago, Napoléon Bonaparte suffered his first major defeat when he lost to the Haitian revolutionary forces at the battle of Vertieres. That remarkable and decisive victory on November 18, 1803 resulted in the end of slavery in Haiti and marked the conclusion of the only successful slave rebellion in world history.
Kalbass Kreyol, led by Haitian born front man Sophis, is a high energy Afro-Caribbean band known for its irresistible original dance music. For the third year Kalbass Kreyol is organizing a Haitian Cultural Extravaganza to celebrate Vertieres Day at the Ashkenaz Music and Dance Community Center on Saturday, November 15.
Kalbass Kreyol's repertoire stretches from traditional Haitian styles such as Kompa and Rara to Zouk, Afro-Funk, Reggae, Salsa and Merengue. Since forming in 2005, the group has performed at the Boom Boom Room, Little Baobab, Hunters Point International African Marketplace Festival, Ashkenaz, the Alameda Art Center, and various other venues throughout the Bay Area.
JAKA Dance Troupe led by Haitian Master Dancer Florencia Pierre and her internationally acclaimed daughter Djenane St. Juste will mesmerize the audience with their tour de force performance of Haitian traditional folkloric dance. JAKA is Haiti's most renowned and original folkloric dance troupe. They are based in Haiti.
Haitian master drummer Jjakomo will catapult the audience in a trance with a special Haitian drumming performance that covers all the different Haitian styles of drumming and more.
The event is designed to give the audience an authentic taste of Haitian culture, from its people to its music and food. Haitian vegetarian dishes will be sold at the show.
Part of the proceeds from the show will go directly to the cyclone victims of Gonaives. To make a donation, please contact Jude Dantes at 510-706-0592.
Show Time: 9:30 PM - 1:00 AM, Saturday, November 15 (All Ages)
Location: Ashkenaz, 1317 San Pablo Ave., Berkeley, CA 94702
Cover Charge: $15 @ door / $12 before 9:00 PM / $12 students
Plus: Free Kompa lesson from 8:00 PM to 9:00 PM
For more information, contact Fredy Dorsainvil at 510-512-8093 or visit www.myspace.com/kalbasskreyol
###
Contact
Kalbass Kreyol
Fredy Dorsainvil
510-512-8093
www.myspace.com/kalbasskreyol
Kalbass voicemail: 510-512-8093

Contact