American Glass Products Roof Lightens and Darkens DiMora Motorcar's $2 Million Automobile
World's most technologically advanced sport luxury sedan will include AGP's Vario Plus-Sky, the latest innovation of the world's market leader in state-of-the-art security and technology glass.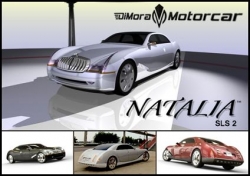 Knoxville, TN, October 09, 2008 --(
PR.com
)-- American Glass Products and DiMora Motorcar, two highly innovative companies focused on exceeding customer and market expectations, have formed a strategic technology partnership. Building on its world leadership in automotive security and technology glass, AGP will provide Vario Plus-Sky glass for the roof of the Natalia SLS 2 sport luxury sedan. For the first time ever, passengers will be able to change the roof from completely opaque to highly transparent, or any point in between.
AGP Vario Plus-Sky is a unique and revolutionary technology which allows you to adjust the transparency of a window, switching as required from a completely dark glass to a highly transparent one. This is possible with the simple touch of a button, to choose if total privacy is desired or if transparency is preferred, to be able to see and be seen.
AGP Vario Plus-Sky is a laminated safety glass system with AGP Nano Technology. A layer of tiny particles--mostly crystals and polymers--is trapped between two other layers. These particles receive an electric impulse that results in the re-orientation of this emulsion to generate a see-through surface or a dark one when no pulse is present.
While designing the Natalia SLS 2, Alfred DiMora had ambitious plans for a roof that was primarily glass, with separate sunroofs for front and rear passengers and glass with variable transparency. He knew that this was a difficult challenge that had not been done before.
After discussing his requirements with many automotive glass companies, DiMora found that AGP Vario Plus-Sky was the right glass to use and the AGP engineering staff was first rate. Working with the DiMora design team, they produced the right solution for the Natalia, and AGP became an important Technology Partner for DiMora Motorcar.
"AGP is a tremendous company to work with," said DiMora. "At every step of the design process, the range of technologies that they can build into specialized glazing enabled them to meet or exceed all of our specifications. We are proud to be the first manufacturer to incorporate Vario Plus-Sky into a production automobile."
In addition to its unequalled shading capabilities, AGP Vario Plus-Sky offers exceptional safety and security benefits, and it significantly reduces the amount of heat passing through the window into the vehicle cabin or other interior space. AGP Vario Plus-Sky also blocks more than 99% of harmful ultraviolet (UV) light.
AGP's Business Development Manager, Norman Peña, commented on the importance of this strategic alliance. "AGP has always been a leader in innovation in automotive glazing, including in our glasses the latest technologies in functionality, safety, light weight, and protection. Now, AGP Vario Plus-Sky delivers to the Natalia SLS 2 the type of glazing a luxury automobile of this kind deserves. Not only does it provide the latest light control option available, but also the beautiful, stylish ambiance that the owner of such a magnificent sedan demands."
About American Glass Products
Headquartered in Knoxville, Tennessee, American Glass Products Company is dedicated to the production of high technology glass for a wide range of applications. During the last 40 years AGP has become one of the largest specialty glazing manufacturers in the world, thanks to different factors: (i) The well-known quality of our glasses: We are highly committed in the search of the excellence in durability, optics, and the most reliable performance. (ii) State-of-the-art technology: Both our process and our products implement the latest improvements in glass production technology. (iii) Our global presence: We are located all around the world, allowing us a direct interaction with our customers and immediate customer service. (iv) Excellence in service: We recognize that our customer service has a strong impact in your production reliability, quality and customer satisfaction. (v) Our value: We are committed to give the highest value at a reasonable cost. (vi) The large number of models and technologies available: We have a set of glasses for almost any vehicle model. For more information, please visit www.agpglass.com.
About DiMora Motorcar
Based in Palm Springs, California, DiMora Motorcar crafts automobiles designed to exceed expectations for safety, performance, technology, ecology, beauty, comfort, and luxury. We are the first to reveal the design, production, and testing of our automobiles via the Internet so that people around the world can learn about--and participate in--the process.
The founder, CEO, and driving force behind DiMora Motorcar, Alfred J. DiMora, produced two of America's finest luxury automobiles, the Clenet (as owner) and the Sceptre (as co-founder). When President Reagan declared 1986 the Centennial Year of the Gasoline-Powered Automobile, Mr. DiMora's Clenet was selected as the Official Centennial Car. As a result, he and the Clenet were honored at the Automotive Hall of Fame in Michigan. He also founded Starbridge Systems, Inc., where he developed the FPGA supercomputer. Using his technological and automotive backgrounds, Alfred DiMora blends the two worlds together to create this new experience in automotive history, the Natalia SLS 2. For more information about our products and how your company can become a Technology Partner of DiMora Motorcar, please visit www.dimoramotorcar.com.
###
Contact
American Glass Products
Norman Peña
800-562-1613
dimoramotorcar.com
760.534.2317

Contact