Royse City High School's New TigerTurf is "Number One Field" in Texas
Rapidly growing high school near Dallas "can't say enough good things" about Texas Sports Builders, which recently installed Royse City High's new advanced technology synthetic turf TigerTurf.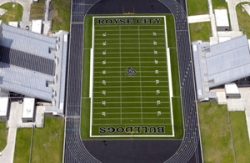 Austin, TX, October 10, 2008 --(
PR.com
)-- Texas' Royse City High is so proud of its new
TigerTurf
field system that they've nominated it for athletic field of the year.
"I feel that our football field and great facilities are second to none," said Greg Strahm, Royse City High's Head Coach and Athletic Director. "Our athletes, coaches and fans All agreed we have the number one field in the state of Texas," he added.
The new synthetic turf, installed in summer, 2008, by Burleson-based
Texas Sports Builders (TSB)
, was manufactured in Austin, Texas, by global synthetic turf manufacturer TigerTurf.
"It's a nice, nice, nice field – everybody is happy with it," said Nicky Morris, maintenance director, stadium manager and facilities director for Royse City High School. He said Strahm and the school's other coaches were closely involved in selecting TigerTurf, as they've had exposure to a wide array of synthetic products.
"We wanted something that will hold up – a high quality system. With TigerTurf we believe we have one of the top three fields in Texas," Morris stated. "We can't say enough good things about TigerTurf and about Texas Sports Builders."
He said TSB's crews were extremely professional, extremely responsive to the school's needs. "The installation went smoothly, they did what they said they would do and their follow up has been extremely good," he added. "I have already recommended both TSB and TigerTurf to others."
The new field, part of Royse City's $13 million stadium project, has hosted several football games and practices and will be used for a myriad of sports and activities, including playoff games.
Other TigerTurf systems can be found in Texas (Monahans and Forney High Schools), throughout the nation and in 85+ countries. TSB serves as a general contractor for sport field needs throughout Texas, Oklahoma and Louisiana.
About TigerTurf
TigerTurf International is one of the largest synthetic turf manufacturers in the world, with headquarters in Auckland, New Zealand, and wholly-owned subsidiaries in Australia, the United Kingdom and the Americas.
The company owns and operates a global network of manufacturing facilities, most with ISO 9001 certification, serving customers in over 85 countries. The most recent facilities were added in Texas and Brazil in 2007.
TigerTurf develops customized and standard turf solutions for soccer, American football, field hockey, lacrosse, tennis, golf and numerous other sport and landscaping applications. Many of the company's products have passed the stringent testing requirements of FIFA, FIH, ITF, IRB, World Bowls and other sport governing bodies.
A member of the Synthetic Turf Council, all TigerTurf systems are tested to meet current lead and heavy metal compliancy standards.
###
Contact
TigerTurf Americas
Kim Neighbors
512-782-8175
www.tigerturfworld.com

Contact