Baby & Kids Sale - Clothing, Nursery, Accessories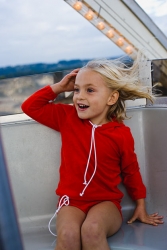 West Sacramento, CA, October 14, 2008 --(
PR.com
)-- Fantaisie Kids is offering a huge sale on baby and kids clothing, nursery, and accessories. Fantaisie Kids started out as a wholesale manufacturer of hand smocked and embroidered apparel for ages 3 months up to 10. Just one year ago, the company decided to operate as a full e-commerce boutique, offering an array of other designer brands and products. Although these new product lines were successful, Fantaisie Kids found itself attracting two very distinct customer groups. One is more interested in the classic embroidered looks, and the other is more geared towards trendy and urban styles. This result was the opposite of what Fantaisie Kids strived towards. "Our goal was to give customers a variety of options, to meet their lifestyle needs. We didn't want to turn a customer away just because she couldn't find a matching accessory to go with her child's wardrobe. However, the slow economy and consumer shopping trends have dictated the direction of our business. We would like to return to our original model, and manufacture our own products. This gives us more control over designs, pricing, and customer promotions," states Anh-Chi Nguyen, Manager of Fantaisie Kids. Although Fantaisie Kids is holding a store-wide sale, they plan to continue offering designer brand skincare and shoes. "With excellent quality products and competitive price points, carrying brands such as Noodle & Boo, Little Soles, and Kuuru would only strengthen our business. Customers absolutely love our selection of baby skincare and shoes, and I'd like to remain loyal to those shoppers."
The Fantaisie Kids sale will continue until December 2008. Discounts range from 20-40% off. All items must go, so hurry before they sell out.
Designer Brands:
Barefoot Dreams
Bebe au Lait
Bloomers Baby
Elegant Baby
JP Lizzy
Kaloo
le top
New Arrivals Inc.
Sakura Bloom
Sarabear
Seafolly Girl
Serena and Lily
Tea Collection
Wall Candy Arts
Start shopping at
www.fantaisiekids.com
.
###
Contact
Fantaisie Kids
Anh-Chi Nguyen
9162733393
www.fantaisiekids.com
fantaisiekids@yahoo.com

Contact