Stardust Children's Foundation Furthers Empowerment of Children
Stardust Children's Foundation, Inc. announces the global introduction of its children's empowerment programs. The Foundation believes that teaching children to follow their dreams, live on purpose, and hold an attitude of success and perseverance brings extensive positive changes around the world.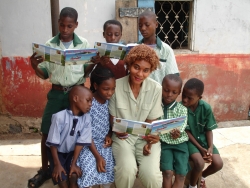 Boston, MA, October 16, 2008 --(
PR.com
)-- Stardust Children's Foundation, Inc. (SCF) announces the introduction of its first program in Nigeria with children from the Angelican Commercial Grammar and Royal Favour International Primary Schools in Ibadan, the capital city of Oyo State. Volunteers, Mr. and Mrs. Dolapo Adeyemi from Washington, DC, read to the children and taught them the basic tenets of the children's empowerment program. The Foundation intends to expand the educational endeavors in Nigeria during 2009.
In May of this year SCF was contact by Steve Viglione, Founder and CEO of the I AM Foundation, asking for donations of books for children in Jamaica. The Foundation gladly donated books to the Issa Trust Foundation (ITF) whose mission is to provide medical and educational services to the children of Jamaica.
SCF is pleased to announce that the books donated to the ITF were a huge success with the children. In fact, according to Diane Pollard, Vice President of ITF in the United States, the ITF has now decided that instead of gifting toys to the children they will now be giving books and educational materials. SCF looks forward to a long and lasting relationship with the ITF in supporting their educational goals. As the Caribbean is a target for the Stardust Children's Foundation, the Foundations are exploring the potential to work together towards the mission of educating children to live in their greatness.
Jeanne Lesniak, Founder of SCF and creator of the educational curricula, believes "now is the time to focus on empowering children so that they may reach their greatness and live from their hearts." Because children are the foundation of the future and family, specific programs have been developed for children, their parents, teachers, counselors and community members. Positive changes develop from children that live empowered and fulfilled lives. "I believe that consciously creating our lives by thinking and feeling from the end is the key to living a joyful, happy and peaceful life," she stated.
Stardust Children's Foundation, Inc. (SCF) is a not-for-profit corporation based in Natick, Massachusetts. SCF is an educational organization dedicated to empowering children to achieve their individual and collective greatness leading to the creation of positive changes throughout the world. The company offers education to empower each child to live in their greatness with a mission to transform the world through each child living their dreams. SCF is joining Hearts Around the World(TM) in soliciting donations to it's mission and volunteer services. For further information contact Jeanne Lesniak at (508) 650-9800 or visit
www.stardustchildrens.com
.
###
Contact
Stardust Children's Foundation, Inc.
Jeanne M. Lesniak
(508) 650-9800
www.stardustchildrens.com

Contact